Any plan to install a backup application for your PC? Want to try Ocster Backup Pro 5? Ocster Backup Pro 5 is a backup application for Windows which supports Versioning, Online Backup, Local Backup, Outlook Backup and Network Backup. The backup application has been designed to automatically create backup files and easily store the backups on an external hard disk, a network drive or on the specially secured Ocster Sscure Storage when necessary. The Ocster Backup Pro 5 is also integrated with great feature which called as "Versioning" for keeping multiple versions of the files that can be access at any time.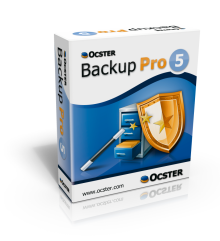 Features of the Ocster Backup Pro 5 includes:
Fully automatic – Creates fully automatic backups of your data
Versioning – Easily access and restore different older versions of your files.
Automatic pausing – Backups are done in the background and are automatically paused to prevent them from slowing down other programs.
Outlook support – Back up Microsoft Outlook emails and calendars with a single mouse click.
Stop and resume – Backups can be stopped and resumed.
Backup reports – Detailed backup reports can be generated each time the backup is updated.
Backup report emails – Backup reports can be automatically sent to an email address.
Network support – Files and folders on network drives can also be backed up.
Encryption – Backups are strongly encrypted and protected with a user password.
Compression – Backups are compressed intelligently to save space.
Scheduled – Backups can be started either automatically at scheduled times or manually by clicking a button.
Storage Types – Backups can be stored on hard disk, USB sticks, network drives and Ocster Secure Storage.
Incremental backup- After an initial full backup only the changes to the previous state are stored. This saves space and reduces transfer times.
Open file support – Files and folders that are in use can be backed up as well.
Hard Link and Symbolic Link Support – Hard links and symbolic links can be backed up and are properly restored as hard links and symbolic links.
Special files – Compressed, encrypted and sparse files can also be backed up.
Encryption algorithms – Backup can be encrypted the following algithms: AES 256 Bit, AES 128 Bit, BlowFish, Cast-128.
Compression Algorithms – The software supports the following compression types: ZLib, LZMA Quick, LZMA Normal and LZMA Best.
Small File Optimization – Through smart uses of compression the software can achieve high compression rates, even with many small files.
Ocster is now giving away free license key code for Ocster Backup Pro 5. To grab the free copy of Ocster Backup Pro 5 legally which normally cost $39.90 to purchase, just follow the below steps:
Visit promotion page, then enter the name, email address and confirm email address and click on "Get Ocster Backup Pro 5 Unlock Code" button at bottom.

Use the received confirmation link to get the unlock code.
Download Ocster Backup Pro 5:  ocster_backup_pro5.exe
A free edition of Ocster Backup is also available.
Update: Free Ocster Backup 6 Pro