People who works in large corporations, companies or organizations may now have a chance to buy and own a copy of Microsoft Office 2010 Professional Plus license for just $9.95. The typical retail price of Office 2010 Professional edition (Office 2010 Professional is not available in retail channel) costs $499 for boxed version or $349 for product key card with no DVD disc.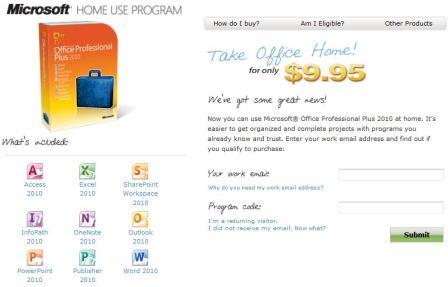 The program is called Microsoft Home Use Program (HUP). The Home Use Program is a Software Assurance benefit, available as part of Microsoft's Volume Licensing programs, where employers can provide licensed employees access to a copy of Microsoft Office Professional Plus 2010 and other applications to install and use on a home computer during the term of the Software Assurance coverage. The software applications available are:
Office Professional Plus 2010
Office Language Pack 2010
Office 2008 for Mac
Visio Premium 2010
Project Professional 2010
For each Office Application License covered by Software Assurance, the user of the licensed software is entitled to one copy of the corresponding program (most Office 2010 suites and individual applications will be eligible for Office Professional Plus 2010 or Office 2008 for Mac, with the exception of Visio and Project) for use at home. The following Volume Licensing programs are eligible for this benefit:
Enterprise Agreement
Enterprise Subscription Agreement
Campus Agreement
School Agreement
Open Value
Open Value Subscription
Open License with Software Assurance
Select License with Software Assurance
Select Plus with Software Assurance
Each license purchased from HUP channels can be installed on one primary device and another mobile device such as laptop. Each employee is entitled to purchase one license only at $9.95 with download option to the product. Physical back-up media is available for an additional $12.00 (includes shipping but not available for Language Packs).
Unfortunately, the $9.95 Office 2010 license is not perpetual, but is a limited license linked to company's subscription to Microsoft Office products. When the employee is no longer eligible, in situation such as leaving the company, corporate terminates the Software Assurance agreement, or you are no longer a user of the licensed software as part of
your employment, the right to use Office terminates immediately. Though there is an advantage, that you're guaranteed to be able to use the latest and future version of Office for free, without payment anymore, as long as you stay qualified.
To buy Office 2010 from Microsoft HUP, you must have a valid e-mail address with a participating company, together with a program code, which should be given by the company. Order and more information can be found at http://www.microsofthup.com/.