Windows XP Service Pack 3 Release Candidate 2 (XP SP3 RC2) has been released for free download on Microsoft Download Center for public testing. The Windows XP SP3 RC 2 has a build version that is different slightly from the previously leaked XP SP3 RC2 update package, which has the version number of 3300. The official XP SP3 RC2 build version number is 5.1.2500.3311 with build number as 3311.

The direct download links for Windows XP SP3 RC2 v.3311 are published on Microsoft Download Center, or just click on the download links below to download the standalone setup package of XP SP3 RC 2.
German: WindowsXP-KB936929-SP3-x86-DEU.exe 312.0 MB
English: WindowsXP-KB936929-SP3-x86-ENU.exe 315.2 MB
Japanese: WindowsXP-KB936929-SP3-x86-JPN.exe 324.5 MB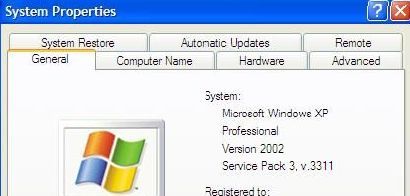 For users who interested to download and install SP3 RC2 using Windows Update (WU), download the self-extracting zip package Windows XP SP3 Release Candidate 2.exe, which contains XPSP3_RC2.cmd script. Run the XPSP3_RC2.cmd to insert the required registry keys to system registry, then check for updates in WU. Note that for the WU registry hack to work, Windows XP must be already on Service Pack 2, and any previous or older versions of Windows XP Service Pack 3 prior to Release Candidate 2 should be removed before attempting to use the registry key. Windows Update will not offer Release Candidate 2 to machines with previous versions of the Windows XP Service Pack 3 beta.
Read the release notes for Windows XP SP3 RC2 before attempting to install the service pack.
Update: Windows XP SP3 RTM Candidate – v.5503 (which leaked unofficially) and official Windows XP SP3 RC2 Refresh v.5508 available via Windows Update.