We have mentioned about OpenFrame based IP media phone by OpenPeak with Triple-Play capability earlier, now the company has just announced a next generation Moorestown based tablet device targeted for similar segment. Named as OpenTablet 7, it will be preinstalled with the new Nokia/Intel MeeGo Operating System with extra enhancements.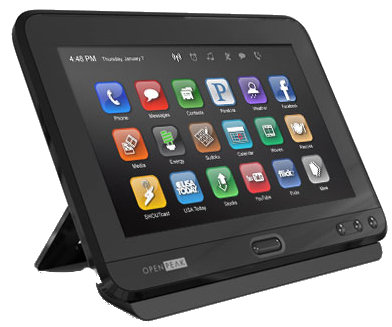 The OpenTablet 7 will be equipped with a 7-inch multi-touch TFT LCD module. Measured at around 9 x 5 x 0.6-inches and weighted below 1.15 pounds, the device can be positioned well either as a wall plug-powered based digital photo frame or battery-operated IP media phone thanks to the thermally efficient Intel SoC Moorestown processor that can easily prolong the battery life without impacting its normal operation. Besides, both its wireless 802.11b/g/n WiFi and cellular networks has made it truly portable without any dependency on fixed wireline. Other hardware specifications include Bluetooth 2.1 module, USB 2.0 host port, built-in camera device, microSD slot and even a HDMI output port for external display in case you are not satisfied with 7-inch tiny display module.
No pricing availability yet, the new OpenTablet 7 will be available by second half of this year to continue the momentum suitable for various market segments such as office security, home/office energy monitoring, health service on top of basic IP media phone usage in digital home.