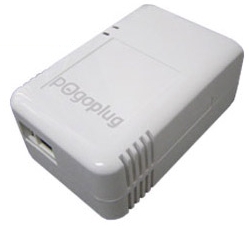 Ease of use and quick access is the whole idea of this cool little product, PogoPlug, which make its debut in CES today. This simple square box doesn't feature any elegant or fancy look but it can still impress you with its unique function. This look relatively cheap device allows you to connect your USB hard drive to your internet router via the USB port. After a simple configuration, you can easily access the files stored at the USB hard drive from any computer as long as there is internet connection. Besides, other people also can share your files in the hard drive via internet access. Technically it will function as a shared drive and allow you to access data stored on it remotely provided there is internet access. Another promising features from PogoPlug is the iPhone interface (for upload as well as viewing), and an open API for developers.

The emergence of this type of accessories and device that use to improve and enhance the connectivity and accessibility is getting more and more important nowadays. It makes life easier for those frequent travelers, businessman, etc to have quick access to their database. The retail price for this tiny device is about $99. Read the full release:
Consumer Electronics Show, Las Vegas, Nev. and San Francisco, Calif. – January 8, 2009 – Cloud Engines today unveiled the Pogoplug, a small device that connects external hard drives to the Internet, making personal files instantly shareable and accessible. Pogoplug enhances the mobile lifestyle by providing seamless access to digital content from any computer or mobile device around the globe.

"Consumers are buying millions of external drives to store their personal content, yet extending this content outside the home is overly difficult.," said Daniel Putterman, chief executive officer of Cloud Engines, Inc. "Pogoplug makes this possible for anyone, with no network setup or configuration."

Pogoplug is designed for simplicity. .Setup takes seconds and requires no networking configuration or installation. Users simply plug the Pogoplug into an electrical outlet, connect the supplied Ethernet cable to their home network router, and attach their external hard drive. Lastly, the product's registration code is entered at my.pogoplug.com, after which the Pogoplug is online and ready for use. The device is compatible with any external USB 2.0 hard drive or memory stick. Content is accessible with any Web browser, Microsoft Windows® Explorer, Mac Finder, and through the Pogoplug iPhone application.

According to the NPD Group, consumers have purchased over seven million external hard drives in the past year alone. The Pogoplug is the perfect accessory to any external hard drive or USB thumb drive, adding desirable functionality at an affordable price, with no monthly service fees.

Key Features and Accessories

Easy Installation – The Pogoplug connects directly to any home network and requires no special technical knowledge to setup firewalls or other configurations.
Full Web Access – All the files from an external drive can be viewed or downloaded through any Web browser, with no need to download or install extra software.
Access Your Data Anywhere – As long as you have an Internet connection, access your files with Windows Explorer or Mac Finder while the drive stays safely at your home.
iPhone Application – Access all your media from an iPhone, and even send new pictures from your iPhone straight to your home with a single click.
Safe and Simple Sharing – Easily share personal content, including video and photos, with friends and family with no uploading. No software download or registration is required by recipients.
Open API – Pogoplug is expandable over the Web. Developers can use our open Web services interface to build new features. Soon, Pogoplug will connect directly to popular sites that offer backup, file synchronization, photo printing and more.

Pricing and Availability
The Pogoplug has a suggested retail price of $99, with no additional service fees. For a limited time, the company is offering an introductory price of $79. In the United States, the product can be ordered directly at www.pogoplug.com.