If you plan to purchase an award-winning Samsung Galaxy Tab, there is another mobile carrier option for you in addition to Verizon Wireless (released on November 11 for $600, without contract) and T-Mobile (first launched on November 10). Sprint has officially announced the launch of 7″ Samsung Galaxy Tab Android 2.2 Froyo-based mobile tablet, combining multimedia player, e-reader, camera and mini PC functionality into a single portable, ultra-compact device.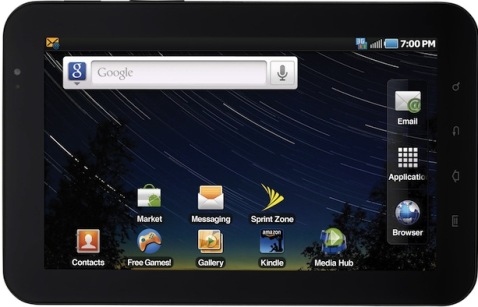 "Samsung Galaxy Tab is another Android innovation for Sprint, adding a new category of wireless devices to the Sprint portfolio," commented Fared Adib, vice president for Product Development at Sprint. "Samsung Galaxy Tab is a powerful entertainment device and business tool that offers our customers high-end features, including a blazing-fast processor, beautiful touchscreen for watching videos and Web browsing, two cameras, video chat capabilities and access to the Sprint 3G network with affordable rate plans that let customers take advantage of the advanced data capabilities their device offers."
Samsung Galaxy Tab that comes with a free 16GB microSD memory card is now available for pre-order at Sprint stores, scheduled to hit Sprint stores on November 14 for $399.99 based on a new 2-year contract on 3G Tablet Mobile Broadband service plans – $29.99 a month for 2GB data with unlimited messaging or $59.99 a month for 5GB data with unlimited messaging.