Portable hard disk drive, which also known as external hard disk drive, is common accessories for most people with a computer, especially for notebook or netbook category system which can only have one hard disk drive. With increasingly bigger size of multimedia files, such as high resolution photos or images and HD (high definition) videos, the free storage space has been shrinking faster than ever. In addition, there is a need to backup important data, files and documents to external location. The answer is external hard drive, which Seagate FreeAgent Go is one of the contender among the crowded market.

FreeAgent Go is marketed by Seagate as the ultimate portable storage solution with the world's first hard drive docking station (not included and sold separately) for easy access to everything stores on the drive. Indeed, the 640 GB USB 2.0 FreeAgent Go portable hard disk that I received from Seagate is the second generation of the series, very stylish and striking especially when the LED is illuminated while connected, notwithstanding the sleek and ultra-thin design of the hard disk.
Dimension and Design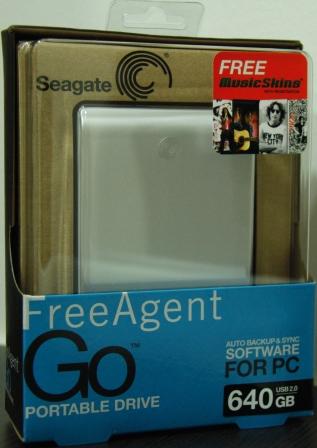 The retail packaging of Seagate FreeAgent Go USB2.0 640GB external hard disk. Inside the box, there are:
FreeAgent Go drive
FreeAgent software (Seagate Manager) pre-loaded on the drive (no CD and for Windows only though) for backup, recovery, synchronization, encryption and power management.
Quickstart guide
Short (18 inches) but trendy USB travel cable.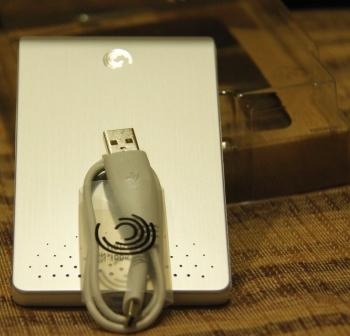 It doesn't come with any docking device though, which customers need to spend more to get, despite been heavily promoted. What surprise me most is the thinness of the Seagate FreeAgent Go. Despite been the same 2.5″ form factor hard disk (same type of the hard disk most laptop or notebook computer used) internally, Seagate FreeAgent Go is the thinnest, measuring just 3.5″ x 5.12″ x 0.49 (H x W x D) with weight of 0.35 lbs. Only one mini-USB port at the bottom of the drive, which is used for both data and power connection.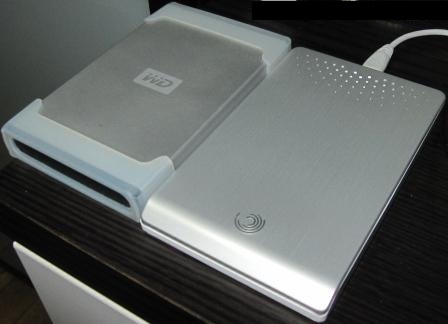 The external hard disk drive comes in many variety of colors for its brushed metal texture finish with Seagate logo embossed. The tapering down of the front makes the gadget sleek and sexy. The colors available include Titanium Silver, Tuxedo Black, Ruby Red, Royal Blue, Sky Blue, Solar Orange, Think Pink, Champagne Gold, Forest Green, and Spring Green. However, not all capacity is available in all colors. And the dynamic light display provides the stylish effect to the gadget, doubling up to serve as a disk activity indicator. If the list of colors doesn't attract you, free specially designed MusicSkins is available upon registration to personalize the Seagate FreeAgent Go.

Capacity
Seagate Free Agent Go portable hard disk drive is available in the capacity of 250GB, 320GB, 500GB, 640GB, 750GB, 880GB and 1TB currently. Don't expect the full disk size though, as the capacity here refers to actual bytes available on the hard disk, and not adheres to the computing standard. So in the 640GB drive, Windows 7 reports that only 596GB is available. No issue here, as the practice is common if not the standard among all hard disk manufacturers.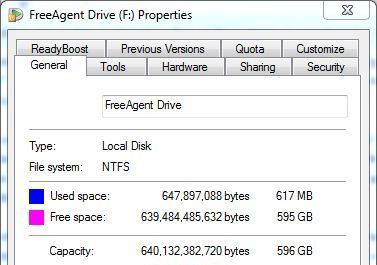 Seagate Manager
Seagate Manager is the full featured software utility that comes pre-loaded on the Seagate Free Agent and Maxtor OneTouch drive. The Seagate Manager is one of the main advantage to choose Seagate external hard disk over competitors', as it provides comprehensive and powerful set of tools for the drive. The features include:
Backup and restore features to enable you to protect your data.
Sync, to synchronize one or more folders between two or more computers.
Security features, including encryption of multiple files and folders in one location, as well as backup and sync encryption.
Settings to control power management, software updates, drive lights and more.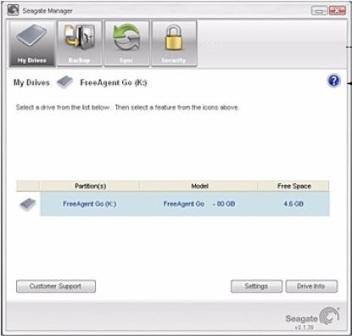 Seagate Manager, though only works with Seagate or Maxtor hard disks, is a recommended install, especially for technical-savvy who wants to tweak and configure the drive. For example, it's possible to turn off power-saving mode or adjust the idle time before shutting down the drive so that the connected drive can active instantly when required without spending some time to warm up.
Windows users who have no Previous Version feature, which stores versions of files at specific time, can also take advantage of Seagate Manager, which can up to ten (10) previous, or historical, versions of each revised file stored on the drive during backup. Users can restore a saved historical version of a backed-up file based on the date it was last modified, or restore the file's most recent version.
Those who make no use of Seagate Manager can always reclaim the disk storage space by deleting the files from the drive, although it's highly not recommended. The Seagate Manager supposedly to start installing itself when first plugged into the computer, although in my Windows 7 machine, it's not the case. However, the installation wizard can be started easily by double clicking on setup.exe on root folder of the external drive.
Seagate DiscWizard or Maxtor MaxBlast and Muvee Reveal Seagate Edition
Although not publicize broadly, Seagate hard disk can also made use of free Seagate DiscWizard or Maxtor MaxBlast, the OEM version of Acronis True Image, a popular disk imaging, cloning and backup software utility for computers.
Another surprise is the free Muvee Reveal Seagate Edition (version 7) which comes with all Seagate FreeAgent exernal hard drives. Muvee Seagate Edition helps users to easily personalize and automatically create, edit, save and share home movies using their photos and video on FreeAgent Desk and FreeAgent Go products.
Performance
The Seagate Free Agent Go uses a USB 2.0 connection which theoretically can transfer data at a speed of up to 480 Mbit/s, which is roughly 57 MB/s. However, due to mechanical nature of the drive and transfer protocol of USB 2.0, the transfer speed will probably won't hit that limit yet, although it may come close. I used Everest Ultimate Edition Disk Benchmark to get a feel of how fast is the Seagate FreeAgent Go (or is there any differences in speed of different external hard disk drive) by comparing to early generation Western Digital WD Elements. Here's the test results.
Seagate FreeAgent Go 640GB Benchmark
Linear Read (Begin): 31.4 MB/s
Linear Read (Middle): 32.2 MB/s
Linear Read (End): 32.9 MB/s
Random Read: 32.5 MB/s
Buffered Read: 30.0 MB/s
Average Read Access: 17.50 ms
Western Digital WD Elements 250GB Benchmark
Linear Read (Begin): 32.8 MB/s
Linear Read (Middle): 31.6 MB/s
Linear Read (End): 31.8 MB/s
Random Read: 30.4 MB/s
Buffered Read: 31.7 MB/s
Average Read Access: 16.50 ms
The performance of Seagate FreeAgent Go is roughly on par with competitors' external hard disk drive. In fact, even if there is significant different on benchmark, I doubt average end-users' usage pattern will notice any difference between them, as how I feel.
Cost
Cost per GB for Seagate FreeAgent Go 640GB is about $0.16 cents per GB, based on the price of $99.99 on Amazon
(aff). It's slightly more expensive than Western Digital WD Elements of the same capacity.
Warranty
Seagate FreeAgent Go is protected against factory defects with five-year limited warranty, a very generous duration considering that hard disk, which is mechanical-based, often head for failure after long period of usage. The maximum warranty period I saw was 5 years, which I considers as a must, while some other brands may often only 3 years, or even worst, two or one year of warranty.
Accessories
If you have extra cash to spend, Seagate also has accessories to complement its external hard disk drive. Of these, the FreeAgent Go Dock and FreeAgent Go Dock+ are desktop dock to insert FreeAgent Go drive, with the later also is a 3-port USB hub. I don't see the need for such dock station though, as a simple USB cable connection will do the job too. However, FreeAgent DockStar is totally different case, where it allows the content on the drive to be shared and accessed from anywhere in the world.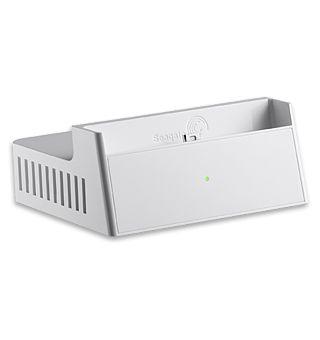 Verdict and Conclusion
Seagate FreeAgent Go is sleek, slim and stylish while offering big capacity of storage space. It's cheap (and getting cheaper) and price roughly the same with other brands of portable hard disk drives. Although it may costs a few bucks more, it's definitely worth every penny extra for its software, sleek design and thinness, in addition to feature-rich Seagate Manager software to make full utilization of the drive. The function of Seagate FreeAgent Go is also easily expandable with accessories, which Seagate is launching.
There are some downsides though. Firstly, no carrying case been provided, so the metal finish likely to get scratch sooner or later. And secondly, the short USB cable. There is also confusion that the drive may not work with Mac OS X or Linux system, which is not the case. Only the Seagate Manager software is compatible with Windows. If you don't care about the software, the drive is plug-and-play about everywhere.
Rating
10 out of 10
Disclaimer: My Digital Life receives the 640GB FreeAgent Go drive for reviewing.