FreeAgent DockStar, one of the accessories which Seagate designed for FreeAgent Go external hard disk drive, is a network attached storage (NAS) which makes use of connected portable hard disk drive or USB flash drive as storage space, effectively allowing any USB mass storage device to be accessed online from anywhere within user's home via LAN, or from anywhere in the world via Internet.

Features, Functions and Specifications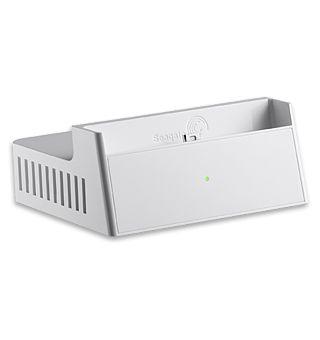 Essentially, Seagate FreeAgent DockStar is the re-branded and re-designed version of Pogoplug technology by Cloud Engine. In fact, in order for the FreeAgent DockStar to work correctly, user must register for an Pogoplug account. So what's potential of FreeAgent DockStar and how useful is the FreeAgent DockStar in making file sharing easier? According to Seagate, features and functions of FreeAgent DockStar include:
Access digital files from anywhere – home, work or remote Internet location.
Turn any external USB drive into an Internet-connected storage device.
Share photos, music, and movies over the Internet without uploading to third-party host and without the need to setup self-hosted web server, with guest uploading support.
Can mount appear on desktop as a local drive for one-step drag-and-drop functionality.
Portable app which enables users to listen to music, watch movies, and access content on FreeAgent DockStar from an iPhone, iPad, Blackberry or Android device, or vice-versa for uploading photos.
Create a private virtual space for sharing files with friends and family.
Works with social media sites, including Facebook and MySpace, to automatically share pictures and files.
Connect FreeAgent Go and three additional external USB drives to home network for virtually unlimited storage.
Support slide shows creation.
Thus, Seagate FreeAgent DockStar is actually network adapter, which when connects with a USB removable storage medium, such as portable hard disk or USB flash drive, will turn it to become a NAS (Network Attached Storage), providing file-based data storage services to computers on the network. Better than NAS, FreeAgent DockStar, via Pogoplug, is Internet-aware, and allow user to access and share the content on the drives connected to FreeAgent DockStar remotely via Internet. With Pogoplug technology, there is no need for additional computer to serve as file server, and user no need to worry about setting up dynamic DNS address for dynamic IP address often assigned by ISP for home users, firewall port forwarding and other complex technical set-ups.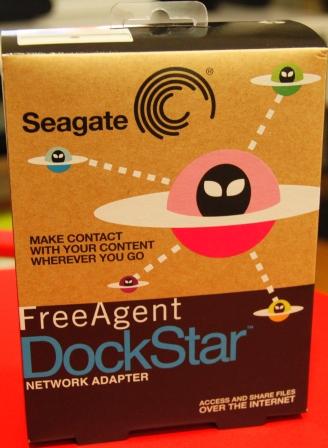 FreeAgent DockStar is designed as a dock for Seagate FreeAgent Go portable hard disk drive, which nicely slide into the dock. In addition, the FreeAgent DockStar also has additional 3 USB 2.0 port to connect three other external hard disk drive or USB flash drive, all of which is accessible through network as array. To connect to network, the device relies on wired Ethernet connection (Gigabit Ethernet supported), and there is no wireless support. So it requires a router, switch or router with Ethernet port available.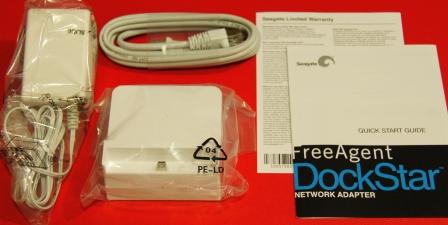 The package of Seagate FreeAgent DockStart includes:
FreeAgent DockStar network adapter
Power supply
Ethernet cable
Quick start guide
USB 2.0 mass storage device has to be bought separately. However, the DockStar supports an wide array of file system, including NTFS, FAT32, Mac OS Extended Journaled, Mac OS non-Journaled (HFS+), ext2, and ext3 (for Linux).
Setup and Ease of Use
Setting up the FreeAgent DockStar is indeed very easy (* with disclaimer, check out Performance section), with just a few simple steps.
Connect Ethernet network cable to router and to Ethernet port of DockStar network adapter.
Connect and power on the AC adapter to DockStar network adapter.
Wait for the LED light to turn solid green, which indicates that DockStar is on and connected to the service. If the LED is amber solid, the DockStar is not connected to the Pogoplug service. FreeAgent DockStar is designed for household use with UDP protocol allowed. I don't have problem connected to the service on both 2Wire HomePortal and D-Link modem with router gateway. However, for user wit advanced firewall that filters and blocks UDP, connectivity to and from Internet on port 4365 UDP must be explicitly allowed or opened with an exception or rule on firewall.

Insert and plug-in the USB mass storage device to the DockStar. The drive can be connected anytime even after activating the Pogoplug.
With any web browser, go to http://www.seagate.com/activatemydockstar.

User needs to enter first name, last name, country and email address, in addition to 26-character product activation ID which is located at the bottom of the dock. The documentation says product activation ID should be automatically detected and populated on web page. But too bad, in my case, the product activation ID is not automatically retrieved despite repeated attempts, and I have to manually enter the long activation code.

The whole process above is actually the process to register for Pogoplug service, so it's possible to directly register for Pogoplug account (or login for existing user) and activate the DockStar as Pogoplug-enabled device.

To complete the process to activate the Seagate FreeAgent DockStar, click on confirmation link on the email sent by Pogoplug.
The setup is basically done, and user can now access My Pogoplug via dockstar.pogoplug.com to access and manage the drive. It's possible to browse the content in thumbnail or list view, upload and add files from local computer, create folder, delete content, download data, create slideshow, and share folder from the web-based interface.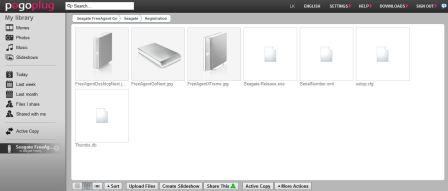 All configuration for the Seagate FreeAgent DockStar has to be done on the Pogoplug account, and the settings will the be propagated to DockStar via Internet. Which means an Internet connection is required. On the settings, user can add in more Pogoplug enabled devices; enable or disable Windows File Sharing (WFS) and assign permission privileges; sign in to social media network to post updates automatically; enable or disable Pogoplug to stream movies, photos and music to XBox360 and PS3 game consoles; turn on or turn off previews of pictures, movies and music; force SSL (HTTPS) for Pogoplug session; and whether to enable SSH access to the Pogoplug enabled device.
Pogoplug Drive and Pogoplug Mobile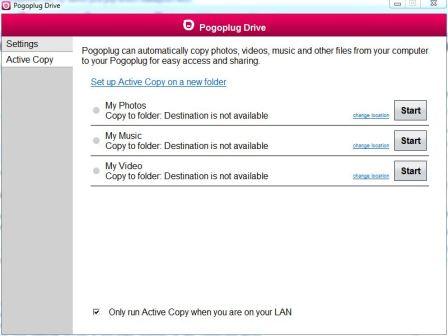 Other than using web-based Pogoplug service to access the FreeAgent Dockstar, user can download the install Pogoplug Drive, which allows drives connected on DockStar to appear on Windows, Mac OS X or Linux as local desktop access with a drive letter. With Pogoplug Drive, user can drag and drop files and folders to DockStar as if it's local drive. The program also supports Active Copy, which automatically copy photos, videos, music and other files from computer to the FreeAgent DockStar. With multi-drive mode, each connected drive and partition will appear with separate drive letter.

With the local drive letter, Seagate Manager can even backup to the FreeAgent Go drive connected to the DockStar, as if it's connected locally.
In addition, there is Pogoplug Mobile for iPHone, Android, Blackberry and Palm that lets users browse and share files and upload photos and videos directly from mobile phone. As I am using a Windows Mobile phone, so too bad can't test out the mobile feature of FreeAgent DockStar.
Performance
While setting up Seagate FreeAgent DockStar is a breeze, actually using the DockStar may still encounter with various issue. The main problem is slow transferring (upload, download or both) speed. FreeAgent DockStar can transfer the data via Internet or directly via Local Area Network (LAN), which is faster. As both computer and DockStar is located on local network, most will assume that the local transfer will take precedence over Internet transfer. But that's not the case for my DockStar. The transfer speed when using Pogoplug service stuck at a maximum of 10 to 20 KB/s, which take ages to transfer even a small 10MB file.
As a workaround, I have to set up Windows File Sharing on FreeAgent DockStar, and then access and map the drive as network share, which allows the transfer speed to go up to wireless G connection limit of 2 MB/s. Expect better speed when using Ethernet cable, but I don't use it. Who (except tech savvies) would want additional cable to mess up the space anymore? Probably wireless N is the way to go.
Another issue with Seagate FreeAgent DockStar (and any Pogoplug device) is that if user wants to remove the hard drive connected and activated to the DockStar, user must first eject the drive through the Pogoplug web interface before physically disconnect the hard disk, or else user will risk data lose. I tried once to disconnect the drive directly without ejecting it, and the drive cannot be recognized by DockStar anymore, until I manually deleted the hidden .cedata folder and .ceid file. Occasionally, the drive may be disconnected for no reason too, and cannot be attached again via web interface. I have to turn off and power on the DockStar again to reconnect the drive.
As all data is hosted on home network, the browsing speed from remote location on Internet is pretty slow. That because most DSL (ADSL, ADSL2 or ADSL2+ and etc) connection has limited upload speed, which is applied when somebody try to "download" from Internet. With small upload bandwidth, the sharing experience is worse than when using file sharing service online with big bandwidth pipe.
Costs
Seagate FreeAgent DockStar is available for $79 at Amazon
(aff). Comparing with original Pogoplug device, which costs $129, FreeAgent DockStar is cheap. However, FreeAgent DockStar only comes with one year free subscription to Pogoplug service, after which every year it costs $29.99 year to continue enjoy the benefits and convenient provided by Pogoplug. Pogoplug device comes with free lifetime subscription. Taking the Pogoplug subscription into account, Seagate FreeAgent DockStar becomes real expensive. However, the DockStar is definitely much cheaper that dedicated NAS solutions, or a computer setup as file server role.
Good news is that the renewal fee may or may not be charged (there is no option to set up payment yet), and even without the Pogoplug subscription, only unlimited sharing and remote access through Pogoplug are disabled. The FreeAgent DockStar can always be used as network attached storage (NAS), when Samba (SMB) share or Windows File Sharing (WFS) is enabled (and stay connected on Pogoplug account), allowing the drives attached to DockStar to be accessed or mapped as network drives.
Technical Details
Seagate FreeAgent DockStar is actually not much different from Pogoplug, and both is small Linux-based system-on-chip (SoC) computer, based on Marvell's SheevaPlug Development Kit. As such, with password, user can login the DockStar can be easily via SSH to add additional functionality, or to replace OS with full-featured distribution. There is now a hacking community who develops PlugApps to be installed on "plug computers", such as the Marvell Sheevaplug, Pogoplug, and TonidoPlug.
Conclusion
FreeAgent DockStar is potentially suitable for at least the following categories of potential users:
Want a cheaper way to build a NAS, or want easy to setup NAS box.
Want to make use of USB external hard disk drives or USB flash drives as NAS.
Have millions or billions of files, photos, images, pictures, videos and data to share with other people across the world via Internet, and it's impractically (too expensive or too slow due to too many) or impossible to upload to a file hosting service, file sharing service or photo sharing site.
Always on the go, and want to access the data stored back home.
FreeAgent DockStar is a great entry-level device who people who is looking at adding a network attached storage to LAN by using external USB drives, quickly and easily. With small footprint, FreeAgent DockStar can save on space and electricity bill considerably when comparing with other storage solutions. For people who wants to share files across Internet, the original Pogoplug may be a better deal, at least until Seagate makes it clear on the payable subscription fee for the Pogoplug service.
There are other downside for FreeAgent DockStar too. For example, it does not support network printer, does not include built-in iTunes server, and it's not possible to download music and video to iPhone or other mobile devices. In addition, despite after installing Pogoplug Drive desktop program, it's not impossible to create and get sharing links directly without going to web interface, which may be inconvenient for some. There is also no wireless, no Bluetooth, no SD card slot and no eSATA port.
Rating
7 out of 10
If you have Seagate FreeAgent Go drive, the DockStar can complement it nicely. With Seagate Manager, it can backup and sync to FreeAgent Go drives attached to DockStar too. Else, it's wise to look at other products such as the new Pogoplug v2 "Pink", or even router that comes with built-in USB port to turn connected hard disk as NAS. Here's a quick video demo of Seagate FreeAgent DockStar.
Disclaimer: My Digital Life receives the Seagate FreeAgent DockStar for reviewing.