After installing Windows 8.1 Update, Microsoft has made several changes to the live app tiles on the Start Screen and Apps View to make them easier to work with. For example, right clicking on any tiles will bring up a context menu instead of the app bar, and the ability to select multiples apps or multiple tiles at one go.

The ability to select multiples apps or multiple tiles on the Start Screen and Apps View of Windows 8.1 with Update is useful when you want to perform certain tasks or operations, such as when attempting to uninstall multiple apps and wanting pin many apps to Start Screen or Taskbar.
Here's how you can select multiple tiles on Windows 8.1 Start Screen and the Apps View:
Press and hold Ctrl key, and then click or tap on the tiles or apps which you want to multi-select one by one.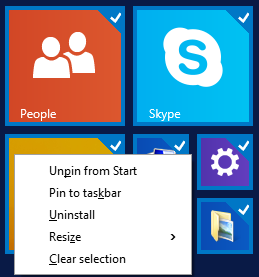 A tick will be shown on the top right corner of the select tiles. Several common tasks can be performed on multiple selected app tiles, where all the options available can be displayed by right clicking on any of the selected tiles to bring up the corresponding context menu.
Some common operations allowed on multiple tiles selection are as follow:
Pin to Start
Unpin from Start
Pin to taskbar
Unpin from taskbar
Uninstall
Resize
Turn live tile off
Turn live tile on
Clear selection
Note that all all commands are available at the same time. Only allowed commands that are applicable to the all selected tiles are shown. Once a command is selected, it will be carried out and applied to all selected tiles.