SocialSafe is a Facebook backup tool that offers a simple, fun and effective backup and download solution for Facebook to save and download all photos and albums, including any that user has been tagged in, see snapshots of friends found and lost over time and safeguard all these important things by backing up all data to any computer for offline storage. SocialSafe has been receiving favorable review as one of the utility avid Facebook fans should get to safeguard Facebook account or even access Facebook offline.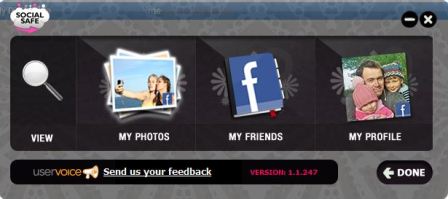 SocialSafe special introductory offer price is just $2.99 a license from socialsafe.net. For user who prefer to get a free license for SocialSafe, My Digital Life is giving away five (5) license key for SocialSafe absolutely free, thanks to developer's sponsor.
To get a chance to win a license for SocialSafe, just post a comment with a valid email address. Participants can post as many comments as they like to increase chance of winning, with each comment represent one entry. Winners will be selected via random lucky draw after giveaway contest closed. Each participant is entitled to one SocialSafe license only regardless of number of entries.
Contest CLOSED. Winners are mke, Toky, Johan Gustavsson, Mommy and Rob Mann.
The contest of SocialSafe free license key giveaway will end at 23:59 PM on October 15, 2009 server time, which is based on UTC+8. The comment must be posted on or before October 15th, 2009 23:59 to be qualify for the draw.
Start posting comments and happy winning.
My Digital Life reserves the rights to change any terms and conditions of the giveaway without notification, and all decision is final.
Note: Winner will receive a SocialSafe promo code which is redeemable at http://www.socialsafe.net/promo for free Social Safe license key code. SocialSafe can be downloaded and installed at http://www.socialsafe.net/download.