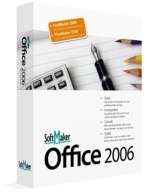 Softmaker Office is commercial office productivity suite developed by software company in Nuremberg, Germany, and is flagship application product of the company. Softmaker Office is targeted to home, small business and educational users, and has gained significant inroad especially in Germany and EU (European Union) countries as replacement alternative to Microsoft Office.

SoftMaker Office Suite consists of a word processor TextMaker (Microsoft Office Word clone), a spreadsheet PlanMaker (MS Excel clone), and introduced with SoftMaker Office 2008 Suite, a presentation software application aptly called Presentations (MS Office PowerPoint clone). SoftMaker Office 2008 also adds event-driven programming language BasicMaker (Microsoft VBA clone), with database application DataMaker scheduled in the pipeline. In order to increase market share, SoftMaker Office suites are available for Windows, Linux, FreeBSD, Windows CE and Pocket PC handheld device platforms.
Softmaker is giving away Softmaker Office Suite 2006 for Windows for free. Everybody can download the fully-functional, non-crippled, not time-limited version of the office suite totally free of charge, without any obligations. Softmaker hopes the giveaway will introduce users to Softmaker Office and users who like the product will pay and upgrade to its successor, SoftMaker Office 2008 for Windows.
Unfortunately, Softmaker Office 2006 only comes with Microsoft Word and Excel-compatible word processor and spreadsheet, known as TextMaker and PlanMaker. Nonetheless, it's free, otherwise, users have to fork out € 69.95 or US$ 79.95 for Softmaker Office 2006 product, and considerably more for Microsoft Office suite.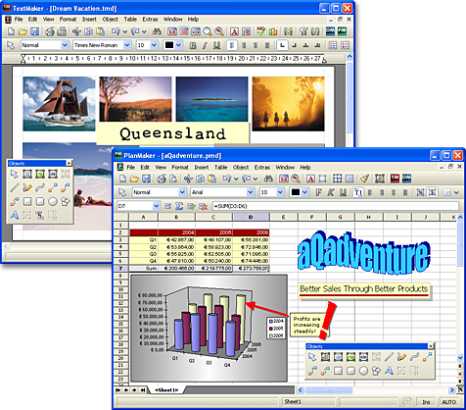 Features of TextMaker for Windows:
Reads and writes all Microsoft Word 6.0 to Word 2003 seamlessly
Tables, drawings, pictures, AutoShapes, WordArt, form creation
SmartText: just type "lax", and "Los Angeles" appears in your document
A true outliner
Built-in database, mailmerge that's as easy as pie and much, much more
Features of PlanMaker for Windows:
Reads and writes all Microsoft Excel files seamlessly
More than 320 calculation functions
Design worksheets with colors, objects, fonts, borders, WordArt, AutoShapes etc.
Built-in Excel-compatible charting
Conditional formatting, syntax highlighting, goal seeker, sheet and workbook protection and much, much more
Softmaker Office 2006 setup installer is just 24 MB download in size, and even tinier and lighter than Open Office and Kingsoft Office. Softmaker Office 2006 works in Windows 9x/ME/NT/2000/XP/Vista, and has menus in English, German, French, Spanish, Portuguese, Russian, Hungarian, Turkish, Japanese, and Simplified Chinese.
Download SoftMaker Office 2006 freeware: ofw06freefull.exe
Ashampoo Office 2008, which is re-branded version of SoftMaker Office 2008 is also available for free.
Update: Softmaker Office 2008