Not long after Toshiba announced the world's first 64GB SDXC standard memory card for consumer market, now Sony has also finalized specifications for the new memory stick XC standard. According to the source, the new Memory Stick XC will able to achieve the maximum capacity up to 2TB, just as similar to the SDXC standard defined by SD Association.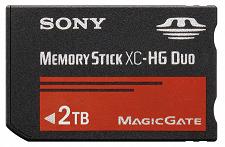 Besides higher capacity, the Memory Stick XC will utilize a much more advanced exFAT file system, as compared to PRO series that still rely on FAT12, FAT16 or FAT32 format. By looking at the specification, the Memory Stick XC Duo can scale up to maximum of 160Mbps (theoretical value) with a guaranteed minimum reading and writing speed of 32Mbps at 4-bit parallel data transfer running with 40MHz maximum clock frequency. More importantly, the new memory stick will carry the same form factor as existing memory stick and hence it makes the backward compatible possible.
While no news on when it will be available yet, consumers may have to wait for a while in order to enjoy such a higher capacity and greater performance Memory Stick XC. As similar to SD XC card, it may start up with smaller capacity such as 64GB or 128GB before a true maximum 2TB capacity memory stick is ready to commercial market.