Few months after Pretec demonstrating its first SDXC prototype design during Cebit 2009 event, now Toshiba has announced the first commercial ready SDXC memory card for consumer market. Designed with 64GB memory capacity, it is claimed to be the world's first high capacity memory card that is compliant with SD Memory Card version 3.00 standards.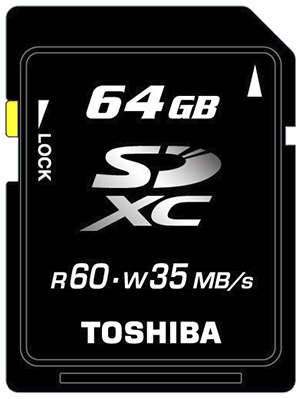 Although it seems to be still far away from the 2TB (TeraBytes) storage being technically stated by the new SDXC specification, but the 64GB is considered a huge milestone marching towards the targeted capacity. Besides featuring with such a high capacity sufficient for HD (High Definition) media files storage, the memory card is also designed with high performance level in mind. It is claimed to be able to scale up the data transmission speed with maximum of 35MBps and 60MBps at read and write speeds respectively. This is especially suitable for those high resolution video as well as digital still images capturing applications that could easily take up significant memory space without the need to inconveniently swap with few memory cards.
No pricing information yet, the new SDXC cards will be start sampling by November this year with its mass production schedule targeted on early next year. Meanwhile, the Japanese company is also planning to release both 16GB and 32GB SDHC memory cards by December this year.