The previously introduced Toshiba Folio 100 is being powered by Tegra 250 processor, now a similar NVIDIA Tegra based tablet PC has been announced by Stream TV. Named as eLocity A7, it is claimed to be the first Android 2.2 tablet PC targeted for US market.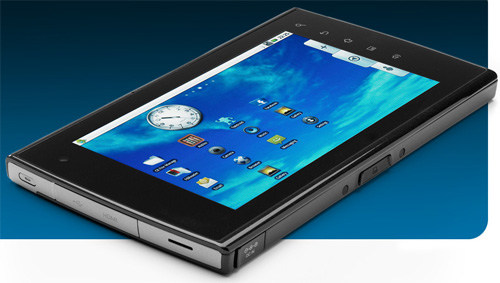 Powered by NVIDIA Tegra T-20 clocking at 1GHz, the processor is backup by 512MB RAM that is expected to be compete against Apple's famous iPad. Even though there is only 4GB memory storage being built internally (as compared to at least 16GB for Apple's iPad), but users can add on any memory expansion storage via its microSDHC card slot. Besides, its standard USB 2.0 port seems to be more peripheral-friendly without limited by proprietary connector type like what being implemented in iPad design. On top of these, the device is being equipped with HDMI output which match well to its core capability that can decode and display full 1080p video playback on larger external screen. Other specifications include an internal 1.3MP camera, 3-axis accelerometer for 3D gaming, Bluetooth, Wi-Fi wireless technologies with Flash playback support which are common in multimedia mobile computing.
No actual availability date yet, eLocity is already available for pre-order now and at merely $370, it is quite affordable as an all-in-one HD capable mobile companion for public users.