Good news for those who would like to own i-SOBOT since its launch last year but no chance to get it yet due to unaffordable pricing, Now, the price has been slashed to $99, making it one of the most affordable high end toys for both children and adults. I-SOBOT was sold at $300 when it was first launched by Takara Tomy in Japan back to October 2007.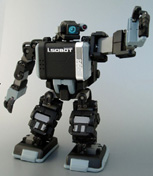 i-SOBOT is an intelligent tiny robot that has been certified by Guinness Book of Records as the world's smallest size humanoid robot. Not to be compromised by its miniature size with only 165 mm height, it features a sophisticated technology design with 17 servomotors and a gyro-sensor that enable it to perform up to 240 movements in sequence. Besides, it has 180 individual movements and all these can be preprogrammed or controlled through verbal commands at consumers' preference.
i-SOBOT is currently available for purchase at Hammacher Schlemmer. No insight details on why it experiences such a huge price adjustment, but some believes that the company is trying to clear current stock, giving way to next generation i-SOBOT CAM version that comes with embedded wireless module to deliver images wirelessly to PC system. Nevertheless, it is still a very good deal considering those great features being offered at this affordable price.