TimeStop v2 is a Chinese program that enhance and automate the Windows Vista activation crack of TimerStop.sys which used to permanently activate Windows Vista. TimerStop.sys hack stop the countdown timer of Vista activation, so that Windows Vista system will always have 30 days or 43200 minutes left without the need to reset or rearm the Vista timer. With countdown timer always at 30 days, technically Windows Vista is recognized as legitimate and genuine by Microsoft as evaluation period.

The TimeStop crack for Windows Vista is called a idiot style of crack patch by the author, as the whole Windows Vista activation crack process is fully automated. The TimeStop patch v2 update the Timer Stopper patch (timerstop.sys) so that the crack can be applied and used to crack Windows activation on Windows Vista 64-bit (x64). Beside, it also include an algorithm to check if it's run on Windows Vista operating system. If it detects that your OS is not Vista, it will prompt a critical error message (in Chinese language, basically mean "You aren't using Windows Vista system, right? Are you trying to play me?"), and stop you from continue using the smart utility. Although the Vista activation crack utility is in Chinese, but it should work on English edition of Vista, as the core of it, TimerStop.sys is the same.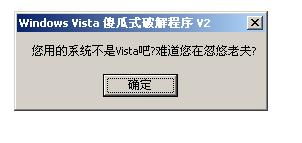 Download TimeStop.exe
New: There is another variant of TimeStop.exe v2 which is re-compiled version on 15 Jan. Download TimeStopv215.zip which contains new TimeStop.exe v2.
Update: A similar English version of automated TimerStopper crack also available.
To crack Windows Vista activation by using TimeStop.exe, simply right click on TimeStop.exe, and on the right click context menu, choose "Run as Administrator". Its dialog will show in Chinese, but simply press Enter or click on default button will do. StopTime.exe will automatically change the system and BIOS date to 2099 trick (as in 2099 Vista crack, which for safety reason, you may apply yourself prior to running this patch), automatically install StopTimer.sys patch (as in method to permanently activate Vista), automatically install the Vista crack to auto start after system restart, and automatically change back the date to current time. In short, you can perform all the steps previously to crack and bypass Windows Vista activation to make the grace period for Windows Vista is always 30 days forever and permanently in just a single click now. The most simple,direct and automatic Vista crack. The program will reboot the computer for just one time after successfully patch and crack Vista.
Note: The crack needs to rearm Windows Vista, so the Vista must not be already rearmed for 3 times (the maximum allowed). Some reported failed or not complete Vista activation crack on 64-bit version, where the activation grace period timer will continue to countdown while using the system, although the countdown timer will be reset or rearm back to 30 days after reboot. Please try and report back.
Disclaimer: Please support and purchase genuine software. Privacy kills creativity and never been encouraged or promoted by My Digital Life. This article is for information and education purposes only.