Previously we mentioned about Toshiba 32GB NAND flash memory, now the Japanese company has reached another major milestone by bringing a new 64GB NAND flash module targeted for smartphone market.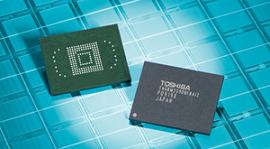 Claimed to be one of the highest capacity in existing market, the NAND flash package is built using sixteen units of 32Gbit NAND chips combined together with access through a dedicated memory controller. Manufactured using 32nm process technology targeted for greater performance with cheaper cost and smaller foot print, board makers can easily adopt the new solution that otherwise will have to consume additional chip (two individual 32GB chips) to come out a total of 64GB just like what being implemented by Apple Inc on its iPod devices. However, similar approach with two 32GB chips cannot be designed on its 3GS iPhone due to space constraint. Just imagine how beneficial could this be and without increasing its size significantly, users can enjoy ample storage space doubling from its original size. And impressively, its chip thickness is measured merely 30 micrometers that can fit well even for slimmest design mobile devices and portable gadget that requires huge internal storage capacity.
The 64GB module is already in sampling stage now for certain strategic customers and it is expected to reach volume production by first half of 2010.