Wonder how can you connect your USB based flash drive or external hard disk drive to network for you to grab the files and view contents remotely? It sounds like a concept of Pogoplug that has started to gain its popularity but if you are looking for something really affordable and simple, the newly announced USB LANPort solution from Sharkoon could be your alternative solution.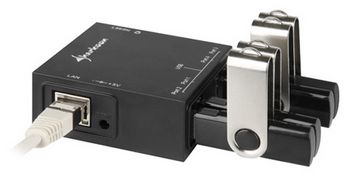 There are two models available – USB LANPort 100 and USB LANPort400 with one and four ports suitable for various applications. With these solutions, users can easily plug in any USB devices such as thumb drive, external storage device, printers to its dedicated USB ports while on the other end, it has a RJ45 Ethernet interface that can be connected to network for remote access. Besides, its compact form factor and magnetized surface allow it to be easily attached to PC casing without occupying much of your home and office space.
The USBLANPort 100 and USB LANPort400 are already available now and at the retail prices of 22.99 Euros and 36.99 Euros respectively, it is quite an affordable solution that offers you fast and convenient access to your important files remotely. Only one requirement, users will need to install the server software as well as device drivers in each individual PC in order to access to the removable plug-and-play USB drives while on the move.