If you have installed Windows 8.1 Update, and want to explore in depth about features of Windows 8.1 generally and that new functionality were brought online by the Spring Update specifically, Microsoft has prepared an eBook which details the features and functionalities of Windows 8.1 updated for the Windows 8.1 Update (KB2919355).

Windows 8.1 has brought many advanced functionalities and features to Windows 8.1 operating system which intend to allow users to work even more efficiently. With many incremental updates, Windows 8.1 with Update is no longer the same with the original Windows 8. Many of the changes have improved the ways user interacts with Windows 8.1, so getting yourself familiar with the latest features and new ways to use the Windows 8.1 would be useful.
This 20 pages brochure-type guide is designed for end-users who want to learn more about the advanced features of Windows 8.1, such as Taskbar customization, Task Manager, Internet Explorer 11, Mobility Center, Windows To Go, Miracast, OneDrive for Business, and File Explorer. Power users will also enjoy learning about how they can get the most out of their Windows 8.1 devices.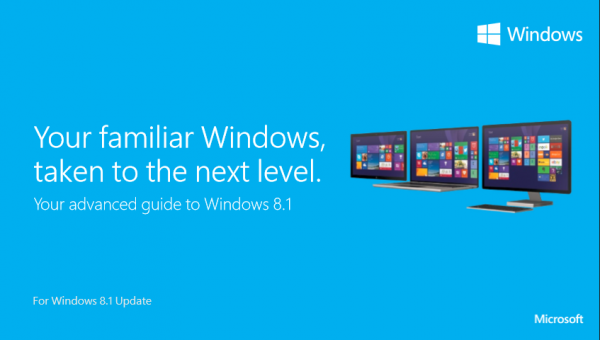 The content includes:
Accessing Quick Link menu to accomplish traditional tasks (like signing out of the device), or you can tackle more advanced tasks in Task Manager and Control Panel.
Access and search for documents with File Explorer.
Pinning frequently used apps, automatically hiding Taskbar when it's not in use, and other customization.
Manage apps and services with Task Manager.
Quickly access settings such as speaker volume, wireless network connection status, and display brightness in Windows Mobility Center.
Boot compatible device with personalized Windows To Go which is an own fully manageable corporate image installed on a bootable certified USB drive.
Internet Explorer 11.
Project to Miracast wireless display.
Device encryption.
Integration with Microsoft OneDrive.
Personalize and sync Windows settings.
Touch gestures.
Mouse gestures.
Keyboard shortcuts.
Download Windows 8.1 Update Power User Guide for Business in PDF format from Microsoft Download Center.