Microsoft has released an updated version for Windows Genuine Advantage program in the way of upgrading LegitCheckControl.dll file to version 1.5.716.0, on 30 October 2006. Currently not all PC will be deployed with this version of LegitCheckControl.dll. WGA v1.5.716.0 will be downloaded and installed on your Windows-based computer when you try to download certain applications from Microsoft such as DirectX, or when simply when trying to validate your copy of Windows installed on PC at Microsoft Genuine Software Validate Windows or click on "Validate Now" button on Genuine Microsoft Software – How to Tell.

There are a few fast release of patches and cracks for LegitCheckControl.dll v1.5.716.0 such as Windows.Genuine.Advantage.Validation.v1.5.716.0.Crack by team ETH0. However, the patch is not working fully, and or effective partially on certain Microsoft WGA protected services such as Windows Updates, as the patched LegitCheckControl.dll is actually an 'upgraded' of 'fixed' DLL from previous version. Since WGA version 1.5.708.0, simply 'upgrade' the previously working cracked LegitCheckControl to match the latest version number by using resource editor no longer works.
For more effective workaround to bypass WGA v1.5.716.0, visit the first method on this summary page, which is a registry hack trick, where you apply some WPA-related entries into the registry to make your Windows as if genuine, legal, and activated. However, the workaround seems to be reset once your reboot or restart your Windows.
For a more permanent fix (at least until next release of WGA), ESI has emailed a latest LegitCheckControl v1.5.716.0 patch (link removed due to complaint from Microsoft), which is a real fix after investigating for 5 hours on new WGA obfuscation and hidden code, and will patch directly the latest LegitCheckControl.dll to make the Windows passed genuine validation test. The working crack for 1.5.716.0 can also be downloaded legitcheckcontrol-v1-5-716-0-patch-zip (link removed due to complaint from Microsft). With genuine Windows, users can easily download the latest application software from Microsoft, install the programs (unable to bypass the genuine Windows validation during installation, use specific application crack method by searching this site), and will not see any counterfeit non-genuine Windows warning notification message.
To use the patch, simply download the zip file contains the patch, extract the zip file. Close all Internet Explorer browser windows. Inside, there is an LegitCheckControl v1.5.716.0 Patch executable, double click on it to run it. Then click browse (… button), navigate to \Windows\System32 directory, and press Enter or click Open. Then click on Start button, and your Windows is now genuine.
Note that this patch can only be applied on unaltered, unmodified and original version LegitCheckControl v1.5.716.0, or else you will get a checksum or file size mismatch error. If you have applied other patches on LegitCheckControl, including those released by ETH0, delete the LegitCheckControl.dll from your \Windows\System32 directory, and go to the links to Microsoft website listed in first paragraph to try to validate your Windows. Download and install whatever WGA ActiveX program you are asked to install, then apply the patch.
Way to check which version of WGA (LegitCheckControl.dll) in installed on Windows computer
Navigate and browse to C:\Windows\System32 (typical folder for most users as it's the default system root for Windows) by using Windows Explorer or My Computer. Locate the LegitCheckControl.dll file. Alternatively, go to Start -> Search, and search for LegitCheckControl.dll file. When found, right click on LegitCheckControl.dll and select Properties. Then, click on the Version tab and the version number will appear, as illustrated below.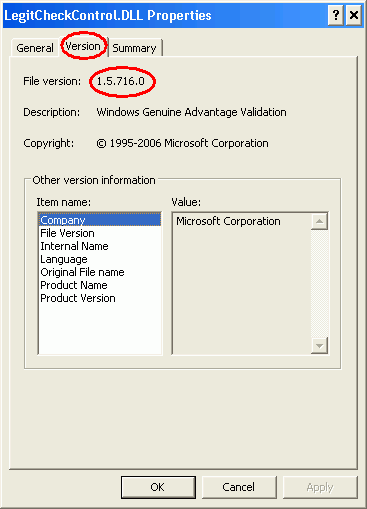 Visit the summary page for updates and more information.
Disclaimer: This article is for informational and educational purpose only, and most information is found and retrieved from Internet. Readers should contacts Microsoft if their purchased or OEM software license cannot be validated.