There are many free tools such as Free Screen to Video, Extensoft Screen Capturer, CaptureWizPro and etc that can be used to capture video or animation in Windows PC for sharing but if you are still not truly satisfied with any of them, here is a great tiny alternative named as YouRecorder Free that you can try.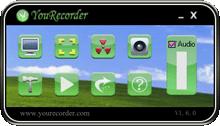 Once install and launch the utility, you will be brought to a simple interface. Impressively, the small interface is pretty neat with all the necessary buttons displayed directly for fast access. Over here, users can select to capture the whole full screen or selected area by clicking on respective buttons. Clicking on them will trigger a next control menu that allows users to start recording, stop, or pause without occupying too much space of the desktop screen. Besides, there is a way to enable audio recording together with animation/video which could be quite useful especially when you would like to capture steps or instructions to perform certain tasks and share to others. On top of this, to make it really useful and fit the needs for public, users can always change the video, audio, camera, cursor and hot keys' settings depending on types of applications and usages. For instances, there is a way to configure Frame Rate (from minimum of 10fps up to 30fps), size of video frame, video quality, hide window when recording and many more based on own preference.
Other usages that can benefit from this utility include the PC games recording, flash media playback, web cams viewing and anything that you can name as long as it appears in Windows desktop. Consumed less than 1.5MB of your hard disk space, YouRecorder Free is compatible to run with Windows 2000/XP/2003/Vista 32-bit and even Windows 7 (32-bit) with DirectX 9.0 and above.