Zotac is not new in nettop business with its previous Mini-ITX based Ionitx platform powered by Intel Atom 230/330 and Nvidia Ion chipset and in order to continue upgrading to much powerful Atom system targeted for increase consumers' needs, the company has announced a new series of Blu-Ray capable nettops which may catch you in surprise if you think this is only available in mainstream notebooks.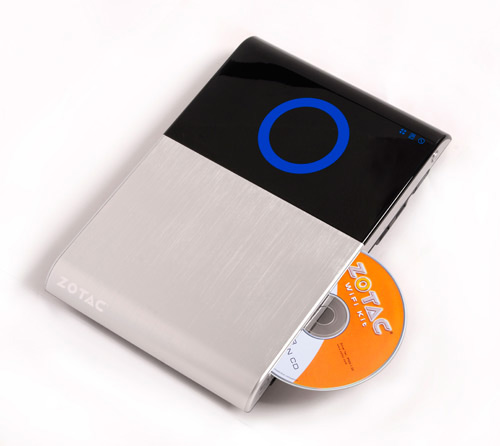 There are two models available namely ZBOX HD-ID33 and HD-ID34 for consumers' selection. Basically both are similar except the ID33 is only a barebone system without peripherals such as RAM and hard disk drive that allows own configuration while ID34 will be pre-built with 2GB memory RAM and 250GB of hard disk drive. With both of them powered by Atom D525 dual-core processor clocking at 1.8GHz, its embedded NVIDIA Ion plays an important role in handling Blu-Ray content with intensive graphics and video decode for greater multimedia experience. Other hardware specifications include 802.11n WiFi module, 2.5-inch SATA II bay, 2 USB 3.0 ports, HDMI output, 6-in-1 card reader, Gigabit Ethernet, 7.1 channel audio and etc which are not common in nettop market. Not to forget, a genuine copy of Cyberlink's PowerDVD with Blu-Ray playback support is bundled in the package.
No pricing and availability yet, don't expect it to be as affordable as conventional nettops but it will definitely fit well in any digital home or office space with its sleek and stylish form factor and sliding Blu-Ray optical drive with enhanced feature sets.