ARM processor has been monopolizing smartphone market and is on the way conquering netbook market competing against Intel famous Atom solution. While it seems to be moving to much powerful ARM core such as Cortex-A9 and duo-core Cortex-A9, but at the same time the company is trying to keep its solution low in cost with the introduction of Cortex-A5 architecture targeted for lower end smart phone and mobile computing market.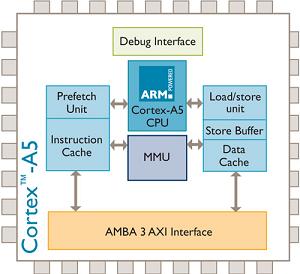 Although it is meant for lower cost budget devices, but the Cortex-A5 is based on the same foundation as similar to other more complicated and powerful Cortex architecture such as Cortex-A8 that have been widely used in mobile applications like in the famous Apple's 3 GS iPhone. With this in mind, consumers can expect some great graphic and media decoding capability with the assistance of NEON vector instructions and what is more, it is expected to be able to support latest Adobe Flash version 10.1 regardless if it is mainly tailored for budgeted low-end smartphone devices. Good thing is, the architecture is fully scalable as ARM plans to integrate multiple cores (up to quad-core) for widely selection if there is a need to cater for much more resource-hungry multimedia applications.
Currently there are already a few licensees (including Samsung) that are in the progress of developing their next generation S0C (Silicon-on-chip) based on ARM Cortex-A5 and actual working sample is expected to be available by end of this year.