We have talked about Intel Atom large package processor earlier and there are already various board designs based on this. If you are not aware, the newly package design utilized the same architecture but the usage has been extended to support extreme environment. Not to be left behind, Axiomtek, the famous Taiwanese board maker has developed a new 3.5-inch SBC (Single Board Computer) named as SBC84823 that will be powered by this relatively larger package Intel Atom Z530P pairing with SCH US15WPT Northbridge/Southbridge combo chipset as part of its earlier generation Pico-ITX Atom solution.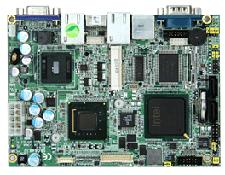 What is so unique about this large package is it has been enhanced with internal heat spreader that can be used to dissipate heat effectively, making it possible to be fully functioning even in extreme industrial temperature ranging from -40 to 85 degree Celsius. When populated into the the actual board size measured at 5.74 X 4.0 inches, it can be fitted well in the slot that used to be occupied by 3.5-inch module such as floppy disk drives and etc to make it a completely standalone embedded system suitable for various usages. Some hardware specifications include a processor clocking at 1.3GHz maximum, a 2GB SODIMM memory, four USB 2.0 ports, Gigabit Ethernet port, SATA, VGA, LVDS display port, CompactFlash Type II slot as well as Mini PCI Express slot.
No pricing and availability yet, the new motherboard will be available soon in embedded market specifically fitted for Industrial, Point-of-Sale, In-car Infotainment segment that require wider operating range as compared to normal system.