Posted:
September 18, 2009
/
Under:
Operating Systems
/
By:
My Digital Life Editorial Team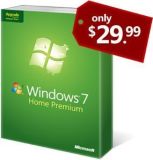 If you're a student, and want to get Windows 7, Microsoft has good bargain in store for you. A new discount promotion program has been launched which allows eligible students to buy or purchase Windows 7 Home Premium or Windows 7 Professional at just $29.99 per license or product key, representing 75% and 85% discount off Windows 7 listed retail price respectively. The deal is even better than the Windows 7 pre-oder promotional discount. No coupon code or discount code is needed, but interested consumer has to verify the student identity.

The Windows 7 discount offer for U.S. students is promoted through "741 – You're the one" marketing campaign, which obviously means Windows 7 for you, at www.win741.com. The Windows 7 operating system product, if pre-ordered, will be delivered on October 22nd, 2009, the official Windows 7 launch date, via an email which will contain a link to access the download of the product. Customers can also pay an extra $13 to have the physical media as Backup DVD, where the disks delivery will also be shipped around this date, with a separate shipping confirmation email will be sent confirming the shipment.
To eligible for ultra-cheap Windows 7 promotion, one has to be eligible students who attend an educational institution geographically located in the United States. For verification, the student should possess a valid e-mail address at a U.S. educational institution which contains the domain suffix .edu or an email address given by one of the pre-approved universities or colleges listed here. Microsoft seems determined to let most students have Windows 7, thus if your institution is not listed, it's possible to manually submit university or school email address for verification, or manually submit verifiable school enrollment such as ID via the manual validation process.
In additional, individual who taken up the ultimate steal offer must also be actively enrolled in at least 0.5 course credit, and able to provide proof of enrollment as current student upon request, or customer will be liable to reimburse Microsoft for the difference between what you paid and the estimated retail price of the software.
Students can purchase either Windows 7 Home Premium or Windows 7 Professional, both at the same price of $29.99. Considering price of Windows 7 Professional is much higher, which edition to buy is no-brainer. Windows 7 Professional is provided mainly for students who need to use Domain Join feature to log on to university or college network in order to access internal sites hosted on school network. Check out Windows 7 editions comparison.
Do note also that the license purchased is of retail Upgrade license, which means technically students must own an previous edition of Windows to install the new Windows 7, although students may not be able to upgrade directly and has to perform clean custom installation on some upgrade paths, such as from Windows XP, although there is workaround to upgrade directly to Windows 7 from Windows XP or manually transfer data via Windows Easy Transfer. To determine that users will be able to upgrade properly, students are encouraged to run Windows 7 Upgrade Advisor, and determine whether current computer runs in 32-bit or 64-bit operating system.
The offer is live now for U.S. residents, and runs until January 3rd, 2010. Microsoft plans similar offers in Canada, Australia, Korea, Mexico, France, and Germany, though the prices may be different, and most of those countries will have to wait until Oct. 22nd for the promotion to go live. Only one product may be purchased per eligible student.
The Windows 7 ultimate steal for students can be purchased at http://windows7.digitalriver.com/store/mswpus/en_US/DisplayHomePage.
Lastly, students in academic lab, faculty or department that enroll in MSDN AA (Microsoft Developer Network Academic Alliance), a global academic program for computer science, engineering, and information systems area of study, need not to buy Windows 7, as Windows 7 is available for free (no cost) through MSDNAA, including ISO download and product key.
Student price for Office 2010 is also available, and do check out more information on Windows 7.