There are various downloading tools such as Desktube, YouTube Fisher, aTube Catcher, etc which can assist users to download video clips from popular video sharing sites like YouTube, DailyMotion, MySpace, etc. These tools allow users to capture and download the multimedia content and store them into their PC for later viewing conveniently without much problem. Having said that, there are limitations to these tools. These handy downloading tools generally support some of the popular video sites but not all. If you happen to find some interesting multimedia contents from a foreign site, for instance, these tools might not support and allow users to download and capture the contents. If that is the case for you, perhaps the free downloading tool, TubeMaster++ (TubeMaster Plus) can give you a better and more comprehensive solution.

Regardless of which website the multimedia content is from, TubeMaster++ can do an excellent job to save the multimedia file for users. TubeMaster++ doesn't rely on the browser itself but it will scan the incoming data, save it, and convert the media file into users' preferred format. When users find some interesting multimedia content, users just need to run the program, and the program will thence stream the multimedia content. When the streaming process is completed, TubeMaster++ will save the file. Users can thence convert the files into various popular audio and video formats such as WAV, MP3, OGG, AC3, AVI, MP3, MP4, etc for specific multimedia players. TubeMaster++ also incorporates search engines into the program. Users can use the tool to browse for videos or MP3 files directly from the internet.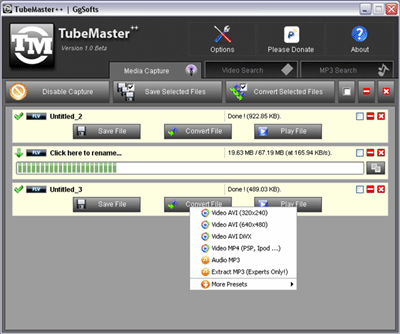 TubeMaster++ is a freeware and it can be downloaded via the link here. This application supports Windows platform but requires Java Runtime Environment and WinPcap to be preinstalled.