Localization Packs (or LocalPacks) is a CAB cabinet files that consists of additional localized themes, RSS feeds, Favorites links and regional wallpapers. Depending on the language version of Windows 7 DVD disc or ISO you're getting, Windows 7 has included some well-hidden regional themes and wallpapers inside %windir%\Globalization\MCT folder, which can be easily unlocked. With the release of Windows 7 RTM gold disc ISO, both the 32-bit (x86) and 64-bit (x64) localization packs for Windows 7 RTM has also been published and leaked.

During the course of leaks of various Windows 7 pre-RTM builds, the localization packs or local packs have actually been leaked too. For example, LocalPacks for Windows 7 Build 7137. Few of the localized Windows 7 themes and wallpapers have been uploaded for free download. In any case, those localization packs should remain the same with final RTM release. But if you glamour for final gold RTM check mark for the local packs as well, here's the Windows 7 RTM Build 7600.16385 localization packs download.
Download 32-bit (x86) Windows 7 RTM Build 7600.16385 Local Packs
File Name: 7600.16385.090713-1255_x86fre_client_localpacks-GRMCLPCKFRE_DVD.iso
MD5: 7c5aa4b2f7b9b2d64f50257a121e816f
SHA1: 9ceb5a53910337debb76148f4dcf5d305d84d804
CRC32: d9d70d72
HTTP Download Link (link removed)
Download 64-bit (x64) Windows 7 RTM Build 7600.16385 Local Packs
File Name: 7600.16385.090713-1255_x64fre_client_localpacks-GRMCLPCKXFRE_DVD.iso
MD5: 4d7b984f6db0a7790dace128370d1e09
SHA1: 8ff188c287f764cc5801fd0e3b698de712078d8f
CRC32: 26e584d9
HTTP Download Link (link removed)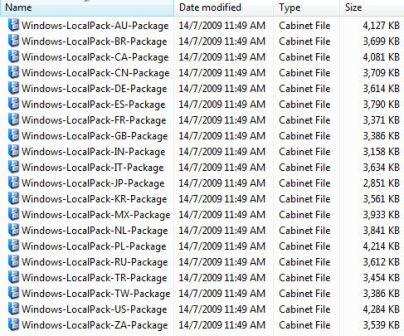 Both 32bit and 64bit LocalPacks package can also be downloaded via BitTorrent (BT) torrent released by Zukona. The torrent will download two IMG image files, namely Win 7 RTM 32BIT MultiLang Lcl Pk.img and Win 7 RTM 64BIT MultiLang Lcl Pk.img inside "Win 7 RTM 32BIT 64 BIT MultiLang Lcl Pk" folder, which are essentially the same files. All ISO or IMG has 20 regional CAB file in the name format of Windows-LocalPack-XX-Package.cab, were XX representing country or region or language.
Torrent: t2042637.torrent
Update: Windows 7 RTM 32-bit and 64-bit MUI language packs and local packs now available for download in single torrent.
People who wants just the regional wallpapers can download all 120 beautiful Windows 7 regional wallpapers directly. Check out the guide to install the Windows 7 local packs.