FILEminimizer Office, which previously known as PPTminimizer is a software utility to compress PowerPoint presentations, Word documents and Excel spreadsheets to reduce file size without changing the file format. FILEminimizer Office can reduces the file size by up to 98% using an intelligent office file compression software technique which compresses pictures and embedded objects while still preserving the original file format and quality.

Features of FILEminimizer Office 5.0:
Office compression for PowerPoint, Word and Excel by up to 98% – a 50MB document is compressed to 1MB in size
Compresses PowerPoint 2007, Word 2007, Excel 2007 files – full optimization of PPTX, DOCX, XLSX files
Compresses "old" PowerPoint 97 to 2003, Word 97 to 2003, Excel 97 to 2003 files – full optimization of PPT, DOC, XLS files
Compresses pictures and embedded objects and reduces the size of Office files
Keeps the original file format – simply edit, view and change it without the need to unzip
Compresses StarOffice and OpenOffice files provided they are saved in a Microsoft format
Compact edition runs directly from CD or USB flash drive – no installation required
Integrated search function finds all optimizable files on the PC
"Drag & Drop" files directly into FILEminimizer to optimize several files at once (batch processing)
Add-ins for Microsoft Outlook, PowerPoint, Word, Excel and Windows Explorer
Fully compatible with Windows Vista and Windows 7.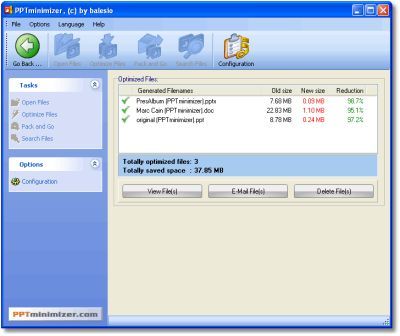 FILEminimizer Office is useful for people who always sharing and sending files via email or collaborate via web-based service, where the file needs to be small in size, and can be opened, viewed or edited directly.
A single user license of FILEminimizer Office costs €34.95. Thanks to sponsor of balesio AG, My Digital Life has two hundreds and fifty (250) licenses of FILEminimizer Office 5.0, the latest version, complete with a valid registration key code to give away to My Digital Life readers.
How to Win a License of FILEminimizer Office
Download and install a free trial versin of FILEminimizer Office from balesio.com.

Two versions of trial is available. 12 optimizations trial requires simple registration, or 5 free optimizations trial can be download directly without registration with direct download link: FILEminimizer-SetupNR.exe.

If you don't want to install anything into your hard disk yet, download the standalone FILEminimizer Office Compact Edition, which does not require installation: FILEminimizerNR.exe.

Run the FILEminimizer Office, and use the program to compress and optimize a PowerPoint (.ppt or .pptx) presentation.
Post a comment with the following information in comment section:

Original size: <original file size of the PPT file>
Optimized size: <new file size of the PPT file after optimized by FILEminimizer Office>

Include a valid email address in the Mail field to receive the registration information with serial number and license code to unlock the full version FILEminimizer Office with unlimited usage.
Each participant is allowed to receive only one free license of FILEminimizer Office. If the case of more than 250 entries, 250 winners will be selected by random (lucky draw). No limit on entries (number of comments) allowed, however, each entry (comments) must be result of unique optimization (different PowerPoint file).
The giveaway contest will end at 23:59 PM, November 18, 2009 (extended closing date, so hurry, there is about 100 more licenses available) server time (UTC + 8). Do invite friends, family members and buddies here to grab a free license as there is ample (250) licenses available.
Giveaway ENDED. As there is no 250 eligible takers for FILEminimizer Office by the closing date, only a total of 200 free licenses are been given away to everybody who posted on of before 6 p.m., November 20, 2009.
My Digital Life's decision is final, and My Digital Life reserves all rights to change any terms and conditions without prior notice. Do check out more free giveaway available at My Digital Life.