There are wide ranges of switches and converters products from Gefen such as HDMI v1.3 Repeater, Wireless HDMI Extender, Optical USB Extender and many more that you may find them to be useful in digital home. Just recently, the company has just announced a new product that is able to convert 5.1 Dolby Digital surround audios into simple stereo audio, suitable to be used in conventional analog stereo speaker sets whenever there is a need.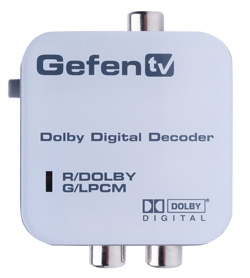 The new product, with the name of GefenTV Digital Audio Decoder, will able to decode any 5.1 Dolby Digital Surround standard broadcasted channels to simple stereo (Right/Left) audio outputs without losing its original audio content quality. With its built-in converter including a digital interpolation filter that simplifies the decoding process, the device is capable to decode up to 6 audio streams such as Dolby Digital surround sounds.
The tiny box comes with both S/PDIF and TOSlink inputs that allow users to switch between two inputs optionally. For instances, users can connect to both set-top box and PC and just select the desired input depending on own preference and it allows seamless decoding to take place almost immediately. Priced at $129, the GefenTV Digital Audio Decoder is already available for purchase now.