After a month of releasing Google Chrome, Google again releases the latest version of its Google Chrome 0.3.154.0 on the Dev channel, shortly after v0.2.149.30. The Dev channel is useful for web developers, testers and anyone who wants to help to make Google Chrome better. The Dev channel allows users to access and test on the upcoming features or the latest bug fixes.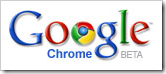 For the current release version, several issues had been rectify like consume complete CPU resouces while browsing, hanging the browser on some pages and etc. Beside that, it also fixes the plugin issue especially Adobe flash video.
Other than rectify the issues, the latest version also enhance on it user interface and the default search engine results have also been improved. Keep in mind, the Dev channel releases are less stable than Beta channel releases.
The Dev channel can be subscribe through the below steps:
Download and run the Google Chrome Channel Chooser.
Click the circle next to Dev.
Click Update to save your choice.
Click Close.
In Google Chrome, click the wrench menu and choose About Google Chrome.
Click Update Now to install the current Dev channel release.
Restart Google Chrome.