Unlike Internet Explorer 7 (IE7) which allows user to select option to re-open and restore opened tabs the next time user uses Internet Explorer upon exiting IE with multiple tabs detected, Internet Explorer 8 (IE8) has removed such ability to automatically reopen and restore last browsing session with opened tabs and windows from last time. Workaround of crashing IE8 Beta 1 is used to restore last opened tabs. However, command to Reopen Last Browsing Session has been added in final version of IE8.

Reopen Last Browsing Session works in similar fashion with Show my windows and tabs from last time startup option of Firefox, except that there is no option to automatically reopen last browsing session upon start up or launch of IE8 browser. Thus, in order to restore last browsing session and re-open all last opened tabs in IE8, user have to run Internet Explorer first, and then use one of the following methods to open last browsing session in IE 8 in Windows 7, Vista, XP, Server 2003, Server 2008 and Server 2008 R2.
How to Reopen Last Browsing Session in Internet Explorer 8
Method 1: In Internet Explorer window, click on Tools pull down menu (either from Command Bar or Menu Bar, which can also be activated via Alt+T keyboard shortcut), and select Reopen Last Browsing Session.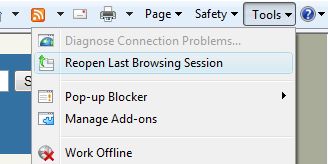 Method 2: Open a new tab, and then click on Reopen Last Browsing Session link. If you can't see it, expand Reopen close tabs section.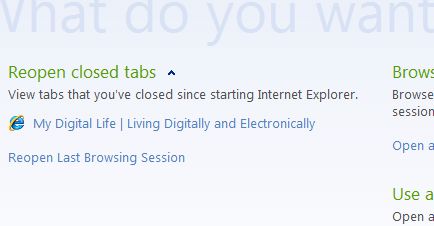 Tip: If you set IE's home page to about:Tabs, then it's possible to access Reopen Last Browsing Session instantly on running IE browser.
For user who don't use the feature, it's possible to disable and turn off Reopen Last Browsing Session feature. If you want to reopen closed tabs, IE8 supports it too.