Fancy a unique, innovative, stylish and elegant mouse? Microsoft Arc Touch wireless mouse is a revolutionary mouse which fits the bill. With the tag line of "Curve for Comfort, Flatten to Pack", the Arc Touch Mouse is not having an ordinary or standard mouse design, where it's extremely slim, and only snap into curvy shape when in use. What's more, the Arc Touch Mouse does not have scroll wheel, which is replaced with a touch sensitive strip.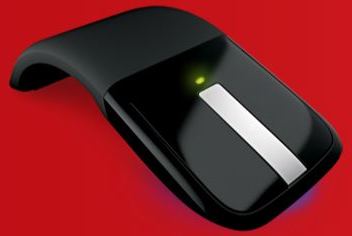 Features of the Microsoft Arc Touch Mouse:
Flexible Design: Curve for comfort, flatten to pack.
Power On and Off: Curve to turn on. Flatten to turn off. No button to switch.
Touch to Scroll: Click. Tap. Flick. Control.
BlueTrack Technology: Works on difficult surfaces – rough glossy, or soft.
2.4 GHz wireless USB Nano Transceiver with up to a 30-foot wireless range and virtually no interference.
Snap-in Transceiver: Nano Transceiver snaps into the bottom of the mouse.
Comfort for Either Hand: Use your mouse with your left or right hand.
Device Stage: Quickly and easily access common tasks, including product information, registration, settings.
Up to 6 months of battery life.
To know more about the mouse, read the review on Microsoft Arc Touch Mouse.
Thanks to the sponsorship of Microsoft Hardware, My Digital Life has one (1) Microsoft Arc Touch Mouse to giveaway for free. The Arc Touch Mouse costs a MSRP of $69.95
(aff).
To win the Microsoft Arc Touch Mouse, just write and post a comment. All comments must be posted on or before 23:59 PM on March 5, 2011, according to comment posted time (UTC+8). You can post as many meaningful comments as you like to increase your chance of winning.
The contest is opened to US residents ONLY who has a mailing address in United States of America. A valid email address must be entered on the "Mail" field. Do not post email address inside comments to avoid spam. Winners must allow his or her email address to be given to the sponsor for product delivery.
The winner will be selected randomly to receive one Microsoft Arc Touch Mouse. If the chosen winner does not have a valid USA mailing address or is not US resident, he or she will be disqualified and a new winner will be chosen randomly.
Contest closed. Winner is Drew.
My Digital Life's decision is final, and My Digital Life reserves all rights to change any terms and conditions without prior notice. Do check out more free giveaways available at My Digital Life.