Apple has launched its thinnest iPod (just 0.24-inch thick) ever featuring a sleek new design that beautifully blends a brilliant 2-inch LCD display (320×240 pixels) with gorgeous curved aluminum and glass enclosure – fourth generation iPod nano, which incorporates a new user interface with high-resolution portrait display and accelerometer technology that already present on iPod Touch (new iPod Touch also available), coming in 9 colors including silver, purple, blue, green, orange, yellow, pink, RED and black.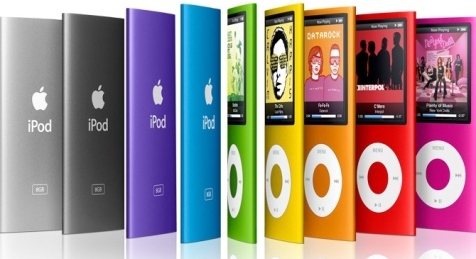 "The iPod nano is the world's most popular music player and we've made it even better for this holiday season," said Steve Jobs, Apple's CEO. "We think users are going to love the amazing new design, the automatic Genius playlist creation, as well as automatically going into Cover Flow with just a turn of the wrist."
According to Apple, "The new iPod nano works with the new iTunes 8 Genius feature, allowing customers to automatically create playlists while on-the-go with their iPod nano. Users can preview the playlist Genius creates, refresh the list to choose different songs and save Genius playlists to enjoy again later."
The new fourth-generation iPod nano that able to support up to 24 hours of music playback or up to 4 hours of video playback on a single charge are now available in 8GB and 16Gb capacities for $149 and $199, respectively.
Update: iPod nano 5G (5th Generation)