Posted:
November 14, 2009
/
Under:
Operating Systems
/
By:
My Digital Life Editorial Team
The much anticipating Microsoft Office 2010 public beta is scheduled to be available anytime now, and it appears that Microsoft has ready the Office 2010 beta page, which has gone live with all kind of useful information for people interested in the beta of Office 2010.

The Office 2010 Beta is hosted at http://officebeta.microsoft.com/, and provides links to download Office 2010 Beta or try the Office Web Apps.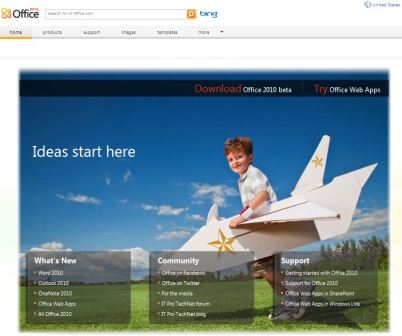 The Office Web Apps, the web-based Office productivity suite which serves as free online companions to Word, Excel, and PowerPoint, and allows users the freedom to view, create, and edit documents from a supported Internet browser (Internet Explorer, Firefox, and Safari), is available and online for a while. In fact, everybody can now register and use Office Web Apps for free without invite.
Unfortunately, the downloads of Office 2010 Beta, which widely rumored to be of build version 14.0.4622.1000, is not yet available. From the Office Beta site, three editions of Office 2010 suite will be available:
Office Home and Business 2010 beta with Word, Excel, PowerPoint, OneNote, Outlook, and Office Web Apps
Office Professional 2010 beta with Word, Excel, PowerPoint, OneNote, Outlook, Access, Publisher and Office Web Apps.
Office Professional Plus 2010 beta (volume licensing only) with Word, Excel, PowerPoint, OneNote, Outlook, Access, Publisher, Infopath, Communicator, SharePoint Workspace, and Office Web Apps.
According to Office 2010 Beta FAQ, Office 2010 Beta is available in all of the following languages: English, Spanish, French, German, Russian, Chinese (Simplified) and Japanese, and users are allowed to either upgrade from existing previous version of Office applications (except Outlook 2010 or Office SharePoint Workspace 2010 which previously known as Office Groove 2007), or customize to install Office 2010 Beta to coexist the Office 2007, Office 2003 or Office XP.
The beta version of Office 2010 will expire in October 2010, and no longer function after October 31, 2010. As with most other beta programs from Microsoft, users are required to activate the Office 2010 Beta with a valid and genuine product key, which will be displayed when users download the setup installer for Office 2010 Beta.
There are two main channels of distribution for Office 2010. Major fulfillment will be through Digital River, where the 25-character trial product key will be displayed on the "Download" and "Thank you" page, and sent via "Thank you" e-mail immediately after the download completed. For Businesses using Office 2010 Beta through CARE, a product key page will display the 25-character product key after beta registration.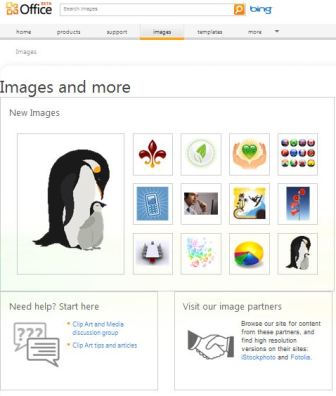 Additionally, the Office 2010 Beta website is also set to become the new Office online companion website which will be hosted on office.com (currently been redirected to Office homepage on microsoft.com). Several contents such as free images and templates as well as getting started guide for new Office 2010 apps in new streamlined format have been posted online, and available for free download.
Note that Microsoft is having a separate beta program for Office Starter 2010, a replacement software for Microsoft Works.
Office 2010 Beta 14.0.4536.1000, together with SharePoint 2010 Beta, Visio 2010 Beta and Project 2010 Beta is now available for download.