Many Windows 7 enthusiasts have been waiting for the much anticipated Microsoft internally tested Windows 7 Build 7025 to leak to Internet. The wait has been disappointed other than the fake torrent going around. But genuine Windows 7 Build 7022, a little earlier build, but already incorporate Internet Explorer 8 Release Candidate 1 (IE8 RC1) with build version tag of 7022.winmain.090115-1850 on watermark on desktop has leaked to the web for free download.



The leaked Windows 7 Build 7022 DVD ISO image appears to be originated from a Russian torrents.ru forum. It has been downloaded and installed my forumers on My Digital Life Forums, and confirmed to be a true genuine Windows 7 Build 7022, with system properties showing version 6.1 (Build 7022.0.x86fre.winmain.090115-1850). Thus, build 7022 of Windows 7 was compiled almost a month ago, on January 15, 2009.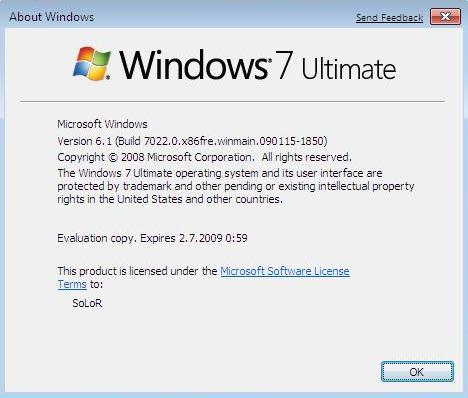 Some file versions of the files extracted from install.win by memberjoe.
Download Windows 7 beta 1 Build 7022 Ultimate x86 ISO [mininova].torrent.
64-bit (x64) Windows 7 Build 7022 is now leaked to Internet.
Torrent will download the Win 7 Ultimate.iso file with MD5 hash value of fe2fa5c146d7a727075e86d70c8db67b. Do note that build 7022 of Windows 7 is not the latest build of Windows 7 been created by Microsoft developers, who are preparing to release Windows 7 Release Candidate soon. Other than newer Windows 7 Build 7025, there are even clue that Windows 7 Build 7034 has been compiled and been tested.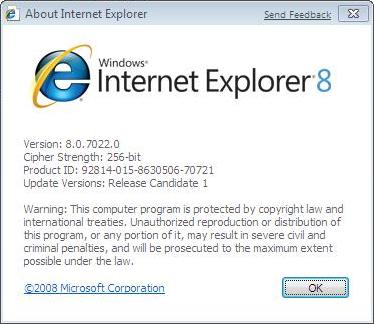 IE 8 on Windows 7 Build 7022 has been upgraded to RC 1 version.
Build 7022 of Windows 7 can be activated using the free Windows 7 product key given out by Microsoft for Windows 7 official beta.
Update: 32-bit Windows 7 Build 7048