FreeAgent GoFlex family is a new class of equipment from Seagate that provides unique yet easy plug-and-play design which allows easy upgrading of interfaces or connector types for faster transfer speeds on PC or Mac OS X systems, and thus the company claims FreeAgent GoFlex portable hard drive as the world's most upgradeable portable hard drive.



In reality, FreeAgent GoFlex storage system does not differ much from a typical external hard disk drive, such as Seagate FreeAgent Go portable hard drive, which is the previous (and still available) mainstream offer of portable hard drive from Seagate. The main difference is that in FreeAgent GoFlex family of drive, the disk enclosure that provides power to the drives and convert the native hard disk data bus signal into a connection interface supported format has been split and separated into a part which Seagate called upgrade cable kit (with interface apter and cable) or Personality Cable. With the split enclosure, GoFlex portable hard drive can accept a variety of upgrade cable kit, which provides various bridge circuitry for bus interface such as USB 2.0, USB 3.0, e-SATA, and FireWire 800.
Here's a video demo of how Seagate GoFlex works:

Dimension and Design
My Digital Life receives a FreeAgent GoFlex 500 GB USB2.0 ultra-portable hard drive for review. The retail packaging of Segate FreeAgent FlexGo drive is now fully paper-based, which means it's no longer able to peek through the plastic cover to have a look on how the external hard drive looks like except from the photo print on the box.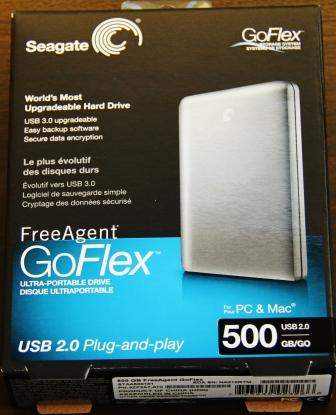 Inside the retail box, there are:
GoFlex ultra-portable drive
Seagate Dashboard encryption software (licensed from Memeo) pre-loaded on drive
NTFS driver for Mac pre-loaded on drive
GoFlex USB 2.0 interface adapter
18.0 inch GoFlex uSB 2.0 cable
Quick start guide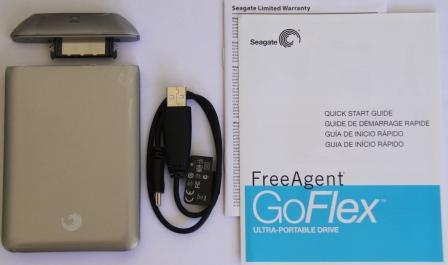 Seagate FreeAgent GoFlex portable hard drive features a sleek, glossy finish case that may prone to fingerprint mark with Seagate logo embossed, which is smaller and thinner than FreeAgent Go portable hard drive with the same 2.5″ form factor hard disk), measuring at 111mm (4.39 in) x 83mm (3.19 in) x 14mm (.57 in) (H x W x L), and weighing an even lighter 150g (.33 lb).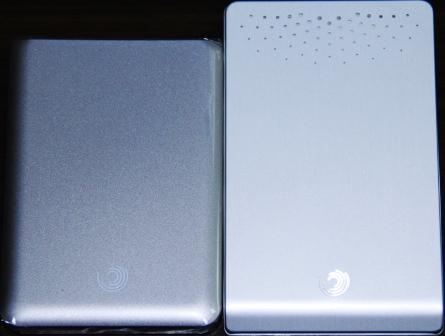 When the interface adapter is not attached, the FreeAgent GoFlex effectively is just a hard disk itself, with casing.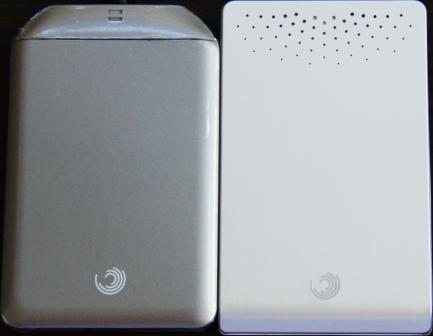 With interface adapter connector, size does not make much difference.


Left is Seagate FreeAgent GoFlex 500GB portable drive, while right is Seagate FreeAgent Go portable drive shows that the GoFlex version is slightly fatter than its Go sibling.
One thing to note is that GoFlex ultra-portable drive has a requires the proprietary connector from Seagate, which comes in the form of GoFlex upgrade cable kit (Personality Cable), even though the connection itself is based on standard SATA interface used in typical internal hard disk drive, for which the GoFlex interface adapter connects to. Depending on purchase option, the GoFlex cable may or may not be included in the package, as Seagate try to accomodate customers who already using a GoFlex ultra-portable drive and want to use the same cable to connect new GoFlex ultra-portable, or customers who want to connect a faster interface than USB 2.0, such as USB 3.0, eSATA, or FireWire 800. The hard disk casing itself does not have any disk activity LED indicator, which has been delegated to the GoFlex cable kit, the connecting interface for the GoFlex hard disk.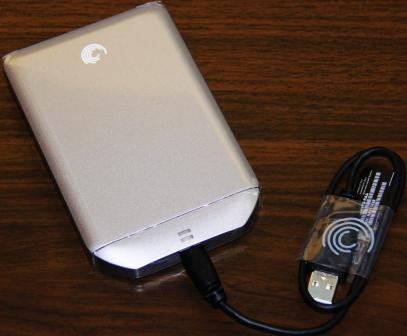 GoFlex ultra-portable hard disk comes in a few colors for selection, including Black, Red, Silver and Blue. However, it's quite surprise that Seagate does not provide the same color options for the FlexGo upgrade cable kit (except the packaged USB 2.0 cable kit), as the USB 3.0, FireWire 800 or eSATA upgrade cable kit is only available in black color. As the upgrade cable kit forms part of the GoFlex portable hard drive when connected, the different color of "body" and "tail" may look odd.
Ease of Use
Essentially, using GoFlex ultra-portable hard drive is similar to using any other portable hard drive, just that instead of inserting USB cable into the mini-USB port, user will connect the GoFlex interface adapter's connector into the corresponding port at the back of the GoFlex drive. With default USB 2.0 connection, the power is USB supplied, so does not require separate power cable.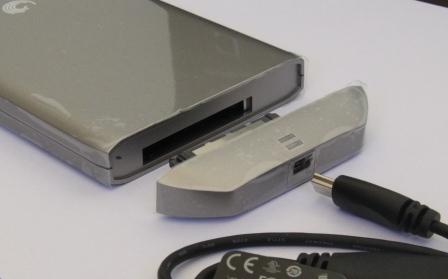 One thing to note is that the USB cable for the GoFlex 2.0 upgrade cable kit can be separately unplugged, and so can be used with any other USB removable mass storage device. However, the cable of GoFlex USB 3.0, FireWire 800 and eSATA cannot be detached.
Capacity
Seagate Free Agent Go Flex portable hard disk drive is available in the capacity of 320GB, 500GB, 750GB, and 1TB currently. As the industry practice, the the size of the hard disk indicates actual bytes that available on the hard disk, so on computer, the actual size displayed by operating system is lesser due to the fact that 1 MB is considered to be 1024 KB and 1 GB is 1024 MB in computing standard. So in the case of 500 GB drive, only 465 GB is actually available.

Seagate Dashboard
One of the main advantage of Seagate hard disk drive is the bundle of powerful disk backup utility. For Seagate FreeAgent GoFlex portable hard disk drive, Seagate Dashboard is included, which is a licensed software from Memeo, and includes the following features:
With the GoFlex ultra-portable hard drive it's easy to manage your backup schedules, encrypt your files, and view your drive's statistics.
Automatic continuous backup of data.
Secures backed up files and protects privacy with powerful encryption.
Schedule backup.
Restore entire drive or individual files.
View at-a-glance drive statistics, including available capacity.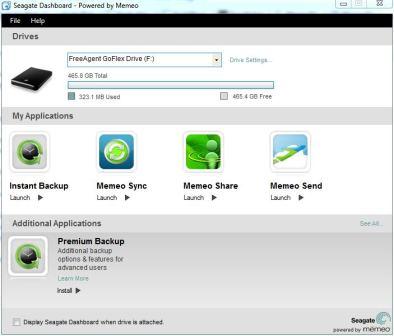 Unfortunately, the Seagate Dashboard only comes with full version of Memeo Instant Backup. The Memeo Premium Backup, Memeo Sync, Memeo AutoSync, Memeo Share and Memeo Send are all trial software. From software perspective, I prefer Seagate Manager provided with FreeAgent Go portable drive, which provides full feature backup, synchronization and encryption functionality.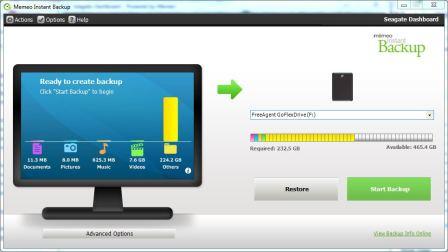 The benefit of Memeo Instant Backup is that it's not limited to use with Seagate brand of removable mass storage media, where Seagate Manager works only with Seagate or Maxtor hard disks. Seagate Dashboard is available for both Windows and Mac OS X.
Those who don't place to use Seagate Dashboard can always reclaim the disk storage space by deleting the files from the drive, although it's highly not recommended. The Seagate Dashboard supposedly to start installing itself when first plugged into the computer, although in my Windows 7 machine, it's not the case. However, the installation wizard can be started easily by double clicking on setup.exe on root folder of the external drive.
Seagate DiscWizard or Maxtor MaxBlast
Although not publicize broadly, Seagate hard disk can also made use of free Seagate DiscWizard or Maxtor MaxBlast, the OEM version of Acronis True Image, a popular disk imaging, cloning and backup software utility for computers.
Performance
Seagate GoFlex Ultra-Portable drive uses a slower speed 5400 rpm 2.5″ hard disk inside, instead of newer and faster 7200 rpm hard disk, but it's already better than typical 4200 rpm which associated the laptop hard disk of 2.5″ in dimension. The Seagate GoFlex can use quite a few connection interface to connect to computer. The bundled interface adapter in the box is a USB 2.0 connection adapter, which theoretically can transfer data at a speed of up to 480 Mbit/s, which is roughly 57 MB/s. However, due to mechanical nature of the drive and transfer protocol of USB 2.0, the transfer speed will probably won't hit that limit yet, although it may come close. I used Everest Ultimate Edition Disk Benchmark to get a feel of how fast is the Seagate FreeAgent GoFlex (or is there any differences in speed of different external hard disk drive) by comparing to early generation Western Digital WD Elements and its sibling Seagate FreeAgent Go portable drive. Here's the test results.
Seagate FreeAgent GoFlex 500GB (USB 2.0) Benchmark
Linear Read (Begin): 32.1 MB/s
Linear Read (Middle): 31.6 MB/s
Linear Read (End): 32.1 MB/s
Random Read: 31.5 MB/s
Buffered Read: 29.7 MB/s
Average Read Access: 23.13 ms
Time to copy a 4.36 GB file: 2 minutes and 34 seconds (average 29 MB/s)
Seagate FreeAgent Go 640GB (USB 2.0) Benchmark
Linear Read (Begin): 31.4 MB/s
Linear Read (Middle): 32.2 MB/s
Linear Read (End): 32.9 MB/s
Random Read: 32.5 MB/s
Buffered Read: 30.0 MB/s
Average Read Access: 17.50 ms
Western Digital WD Elements 250GB (USB 2.) Benchmark
Linear Read (Begin): 32.8 MB/s
Linear Read (Middle): 31.6 MB/s
Linear Read (End): 31.8 MB/s
Random Read: 30.4 MB/s
Buffered Read: 31.7 MB/s
Average Read Access: 16.50 ms
The performance of Seagate FreeAgent GoFlex ultra-portable drive is roughly the same with other USB 2.0 connected external hard disk drive, as probably it's the transfer rate by USB 2.0 connection that is the bottleneck for the actual hard disk speed. However, the throughput is significantly improved with either a USB 3.0 or FireWire 800. Check out My Digital Life review of Seagate FreeAgent GoFlex Ultra-Portable Drive with USB 3.0 or FireWire 800 Kit review with transfer speed comparison.
Compatibility
Seagate FreeAgent GoFlex portable hard disk supports both Windows PC and Mac OS X computers right out of the box. Seagate also includes NTFS driver for Mac OS X for users who want to use the hard disk drive on both Windows and Mac systems.
Cost
500 GB Seagate FreeAgent GoFlex has the price tag of $89.99 on Amazon
(aff), which makes it about $0.18 cents per GB. The price is more expensive than other manufacturers and even Seagate's normal USB 2.0 external hard disk drive, just for the sake of flexibility to use faster speed connection speed.
Interestingly, if you're interested in a USB 3.0 external drive, the FreeAgent GoFlex option's price is about the same, if not cheaper than other products, even after taking into account the extra upgrade cable that needs to be purchased.
Reliability
The drive works perfectly, and does not give me any problem such as file corruption or bad sector on my weeks of usage. However, during the very first time changing of interface adapter from USB 2.0 to USB 3.0, the hard disk lost its MBR (Master Boot Record), causing lost of all data and requires repartitioning and reformatting. Luckily, the same issue no longer happens on all subsequent change of interface adapter, which can safely conclude that the problem was properly due to unsafe unplug from computer.
Warranty
Seagate FreeAgent GoFlex 500 GB USB 2.0 Ultra-Portable external hard drive only comes with 2-year limited warranty to protect against factory defects. The warranty period is considered short, where a typical hard disk warrant can last as long as 3 years to 5 years. However, the external hard disk drive's warranty period may be shorter than physical hard disk itself, as can be seen on many brands of external hard disk vendors.
Accessories
The main advantage of GoFlex family is flexibility of changing upgrade cable kit, thus Seagate launches quite a few accessories for GoFlex family of products. For example, FreeAgent GoFlex Upgrade Cable of FireWire 800
(aff), FreeAgent GoFlex Upgrade Cable of USB 3.0
(aff) (also with option to include ExpressCard adapter for USB 3.0
(aff)), FreeAgent GoFlex Upgrade Cable of eSATA
(aff).
As the connector of GoFlex Ultra-Portable drive has now change and no longer is mini-USB type, but the larger internal hard disk SATA connector, the FreeAgent Theatre+ and FreeAgent DockStar no longer able to connect seamlessly with GoFlex drive (unless using a USB 2.0 cable to connect to available USB port). For GoFlex family of hard disk drives, Seagate launches FreeAgent GoFlex TV HD Media Player and FreeAgent GoFlex Net Media Sharing Device.

Verdict and Conclusion
Seagate FreeAgent GoFlex Ultra-Portable is a stylish and nicely designed external hard disk drive while offering various large capacity of storage space. However, the GoFlex Ultra-Portable drive is a little big more expensive that most other USB 2.0 portable hard disk drive. However, for uses who intend to upgrade to a faster speed connection, such as USB 3.0, FireWire 800 or eSATA should the need arises, GoFlex Ultra-Portable drive provides easy and cost-effective way to embrace the better and faster technology.
In addition, Seagate FreeAgent GoFlex Ultra-Portable drive also includes Seagate Dashboard (Memeo Instant Backup) for instant backup and recovery purpose, which may lack in other external hard drive package, and supports both Windows and Mac OS X system.
One benefit of the design of separate enclosure for hard disk and its connector is that it's possible to use one cable kit for many hard disk drive, potentially saving cost. Unfortunately, Seagate plans, but does not have drive-only option for purchase yet
There are some downsides though. Firstly, no carrying case been provided, so the glossy finish likely to get scratch sooner or later, not to mention the fingerprint mark that will be found on the case. And secondly, the short USB cable. While USB 2.0 cable can be replaced with longer cable, the other upgrade cable kit does not allow the cable to be change. There is also not much color selection, not to say the possibly mismatch of color if customers decide to upgrade to faster interface adapter, which usually in black only.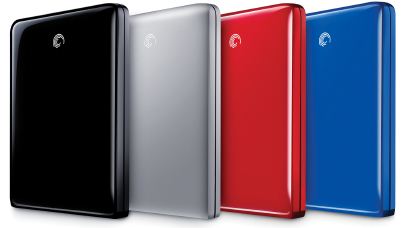 Rating
9 out of 10
Disclaimer: My Digital Life receives the 500GB FreeAgent GoFlex Ultra-Portable drive for reviewing.