Posted:
February 17, 2009
/
Under:
Operating Systems
/
By:
My Digital Life Editorial Team
IP Hider is an application software utility to hide and mask real IP address when surfing the Internet from AllAnonymity.com. By hiding or masking the actual IP address, user can greatly increase the privacy protection and anonymity capability when browsing World Wide Web, which full of marketing tools which monitor surfing habits or exploits that attempt to attack or hack the computer.

What IP Hider actually does is by redirecting and routing the Internet traffic through anonymous proxies. Most web browsers including Internet Explorer, Firefox, Safari and Google Chrome allows user to set a proxy server to use. However, manually changing the proxy server in the browser's option or preference is cumbersome. IP Hider makes the using of proxy with any web browser easier, by effectively creating a local proxy server (localhost or 127.0.0.1) at port 8080, which can be configured for once on web browser, or even automatically set by IP Hider. Then, user select a proxy server to use to browser the Internet through IP Hider user interface (UI), which include a comprehensive proxy list, containing proxies from various countries.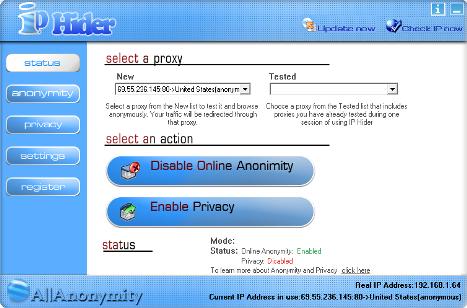 Features of IP Hider:
Easily hide your IP address or change your IP address by routing Internet traffic through oversees servers.
Provides anonymous web surfing to protect user's online identity.
Clear online tracks and traces to avoid hackers.
By using proxy, the indirect benefit is to unban and grant access to MySpace, YouTube, Facebook, forums and visit other restricted sites or view US or UK-only copyrighted streaming videos. It can also be used to bypass RapidShare download limit and MegaUpload country slot limit.
Premium proxy list includes proxy servers exclusively dedicated to IP Hider users providing constant browsing speed and quality (only in IP Hider 4.0).
Able to provide online privacy protection by clearing Internet histories, typed URLs, Temporary Internet Files, cookies, Auto Complete Forms History, Auto complete Password History and Internet Favorites automatically.
IP Hider also protects computer from the action of invasive codes such as ActiveX controls and JavaScript.
Ability to add in own proxy servers.
If you're thinking of owning IP Hider software, now is the chance. My Digital Life is giving away free fully functional license for IP Hider version 3.7, which costs $15.00. Although it's not the latest version of IP Hider (version 4.0 or 2009) which is available, but its functionality is pretty much the same, and users can opt to ugprade to IP Hider 4.0 (aff) for just $8.99 for one year subscription.
To grab the free registration serial code for IP Hider 3.7, good for 6 months usage of the IP Hider product, just leave a comment with a valid email address. The email address will be used the AllAnonymity.com to generate the serial number necessary to registry the product and activate the full version usage, so a valid email is required. Email address just need to be filled in in the "Mail" text box, which will not be published, and not in the actual comment itself to avoid spam.
Note: All 250 free licenses have been given away.
A total of 30 250 6-month license key of IP Hider 3.7 will be given away (and possibly more depending on response) on first come first serve basis. Successful requester should receive the registration key for IP Hider 3.7 from the sponsor.
Download setup installer for IP Hider 3.7: iphider37se.exe
User who wants to try out the new IP Hider 4.0 can download iphider.exe. The license key you received won't work with version 4.0 though.