Despite the intense competitive telecommunication industry, which sees the costs of calling locally and internationally drops to pennies, the costs of sending SMS text messages and MMS (multimedia or picture messaging) has remained stubbornly high. The charge for sending international SMS text messages is exorbitantly expensive. If you're looking for a service that allows you free texting and send free SMS or MMS, check out the few suggestions which provide reliable and stable free texting, SMS and/or MMS service below.

Gmail SMS Chat
Gmail, the popular web-based email service by Google, has built-in support to send free SMS text messages. The Gmail SMS Chat supports a growing list of mobile operators many countries, including Ghana, Indonesia, Israel, Jordan, Kenya, Liberia, Malawi, Mozambique, Nigeria, Palestinian Territories, Philippines, Saudi Arabia, Senegal, Tanzania, Tunisia, Uganda, Zambia and United States. Contact can reply to SMS received (cost may apply), which will appear as a reply in Chat.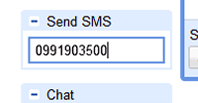 How to enable Gmail SMS:
From Gmail, click on "Settings", and go to the "Labs" tab.
Scroll down until you see "Text Messaging (SMS) in Chat" and select Enable.
Also enable the "SMS in Chat gadget" and then "Save Changes".
You can send free texts to your friends in the US and many countries around the world.
Do check out the review of Gmail SMS, and visit Gmail to enable the free SMS feature.
Google Voice
Google Voice is an integrated telecommunications service by Google, where one of its features is ability to send and receive free SMS text messages through the Google Voice on the web or app, using one of the free US-based phone number given for free or if supported by mobile network carriers, existing phone numbers. Google Voice also supports send and receive SMS text messages with email address.
Currently, Google Voice only supports sending and receiving text messages to phone numbers in the U.S and Canada, and not supporting international number. The the bigger challenge is to register for an account of Google Voice as it's US-only service, and requires a US phone number to sign up.
Visit Google Voice.
Yahoo! Messenger
Yahoo! Messenger also provide free SMS text messaging to mobile phones. Yahoo! Messenger SMS service supports various mobile carriers from the few countries around the world, including United Staes, Canada, India, Indonesia, Malaysia, Philippines, Thailand, Vietnam, Kuwait and Pakistan. Note that Yahoo! warns that recipients may incur data charges from their mobile carrier for receiving and replying to your messages.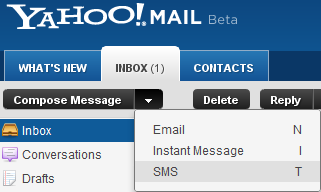 Compose a new SMS text by going to Actions -> Send SMS Message in Yahoo! Messenger, or from Yahoo! Mail with Yahoo! Messenger signed in. The free SMS texting can also be sent from Yahoo! Messenger for iPhone or iPad (iOS) and Yahoo! Messenger for Android.
AIM (AOL Instant Messenger)
AOL Instant Messenger (AIM) also supports free sending of text messages to most mobile phones in the United States. However, international texting is not supported. AIM client is available for many platforms, all of which can be used to send free SMS texts, including Windows, Mac OS X, iPhone, iPad, Android, and Blackberry, and also the web-based AIM Express.
To send a free SMS from AIM, just click on IM and enter the mobile phone number in the "To" field starting with +1 (US country code) follow by 10-digit phone number. For example, +1XXXYYYYYYY, where X is area code, and Y is phone number. You can also add the mobile number number to your contact for easy texting, and contacts saved in iChat is eligible for free AIM SMS too.
Download AIM client.
txtDrop
txtDrop offers free unlimited SMS text messaging for free to various carriers in US and Canada such as Verizon Wireless, AT&T (formerly Cingular Wireless), Sprint PCS, Nextel, T-Mobile, Alltel, Cellular One, Fido, Rogers Wireless, Bell Canada, Dobson, Unicell, Boost Mobile, Cellular South, Edge Wireless, Metro PCS, Suncom, Virgin Mobile, Centennial Wireless and etc. It allows an email address to be entered, which will receive replies from recipients. Unfortunately, it does not seem to support Google Voice or other mobile number not originated from a mobile operator.
txtDrop can be used via Windows Sidebar widget, Mac OS X Dashboard widget, has widgets for Windows, Mac OS X, web-based through http://www.txtdrop.com/, or from iPhone-optimized page through http://www.txtdrop.com/iphone.
TextFree with Voice
TextFree provides a free texting number (US phone number), and offers unlimited free SMS text message sending to various mobile operators around the world. TextFree supports group texting and picture messaging, and recently voice call support to its iOS app.
TextFree allows free unlimited texting between users of TextFree worldwide.
TextFree users can send free SMS text messages to most mobile phones in Australia, Canada, China, Dominican Republic, Ecuador, France, Germany, Guam, Guatemala, India, Netherlands, Pakistan, Peru, Philippines, Puerto Rico, United Kingdom, Venezuela, and United States. There are other unmentioned carriers supported in other countries, and just give it a try.
TextFree with Voice is available from iTunes App Store for iPhone, iPad and iPod touch, or from the web at http://www.pinger.com/textfree/.
TextNow
TextNow provides free unlimited texting (SMS) with picture messaging (MMS) support to any phone in the USA, and comes with a free US phone number for texting and voice call purpose. Check out the review on TextNow.
TextNow supports free texting between TextNow users anywhere in the world.
Install TextNow from iTunes App Store and read the TextNow review.
textPlus
textPlus from Gogii, provides dedicated textPlus phone number for texting (SMS) with support for group multi-way text. Text (SMS) sent to most carriers in USA and Canada is free. Standard message rates apply if you enable Regular Text Notifications in Account Settings.
Texting between textPlus users in any countries are also free of charge.
textPlus is available for iPhone, iPad, iPod touch through iOS App Store and Android through Android Market. Do read review for textPlus.
HeyWire
HeyWire is a service that provides unlimited free texting to any mobile phone in more than 45 countries in the world, namely USA, Canada, Mexico, China, plus most mobile phones in Caribbean, South America and Central America. An advantage of HeyWire is that it supports shortcode to tweet with Twitter.
SMS between two HeyWire phone number worldwide is always free.
Download HeyWire for iPhone, iPad, iPod touch or HeyWire for Android. Check out the review of Heywire. Facebook app is available but it's not free if you don't have a HeyWire account yet which is registered from smartphone.
Krypton
Krypton by Durgle is a simple web app which has user interface optimized for iPhone and for sending free SMS messages. It features elegant design, transcendant ease-of-use, and fantastic functionality. The main usage is to support sending of SMS messages when you have no cell reception, by using WiFi Internet connection. Tricky part is that you need to know the carrier of destination number.
Visit Krypton.
Textie Messaging
An ad-supported unlimited texting app for iPhone, iPad, and iPod touch, Textie Messaging lets user send messages to any other Textie user, any email address, and even to most U.S. mobile phones. Replies come straight back to the app. Textie actually send the outbound text messages to U.S. phone numbers through email gateways. Thus, the receiving party may incur normal text messaging costs, depending on their provider and plan, and Textie only can send free messages to the following U.S. mobile carriers: AT&T, Verizon, Nextel, US Cellular, Qwest and Virgin Mobile.
Download Textie Messaging from iTunes App Store.
Mobile Operators Email to SMS Gateway or Internet/Web SMS
Though less intuitive, some mobile carriers around the world provide email to SMS gateway and/or Internet SMS Chat service, which is also known as WebSMS and other simlar name. The email-to-SMS gateway delivers any email message that sent to the email address of mobile phone number directly to the phone as SMS text messages. While the Internet Web SMS service allows senders to manually enter mobile phone number on a web page to send SMS text messages to the recipient. The later service usually also allows recipients to reply so that both can engage in a SMS chat.
Most of these mobile operator provided services is free of charge, though some operators do charge recipients for receiving such text messages, or require subscription to receive such text messages. In addition, you need to know which mobile carrier that the mobile phone number is on before sending email or go to corresponding mobile operator website to send SMS. With number portability, the prospect of find out which operator a phone number is on looks bleak. And true to the fact, many mobile network carriers have shutdown the service.
Check out the not-so-updated list of available email-to-SMS gateway and Internet web SMS.
Smartphone Social Networking Apps
Last but not least, if the person that you want to communicate and you own smartphone, especially iOS device (iPhone, iPod touch or iPad), Android, Blackberry or Symbian, there are plenty of apps that can be used to text (SMS) via WiFi, though not as a real SMS to physical mobile phone, but between phone with the app installed. The app effectively allowing two or more people with the same app to send and receive SMS text messages from every countries in the world, both domestically and internationally, free of charge. Most of the apps also support more than text in the messages – audio, photos, pictures, videos can be supported as well.
The most recommended is WhatsApp (available for iOS, Android, Blackberry and Symbia), Viber (available for iOS with Android in invitation beta, where SMS capability just added to otherwise voice-centric app) and KakaoTalk (supports iOS and Android), which used existing phone number for identification, and automatically scan phone books for people who has the apps installed. In other words, the experience using the app is similar to actual sending or receiving of real normal SMS without additional phone number to update into contacts list.
Other social networking apps available mostly requires registration and the usage of a user name or nickname, making them more similar to typical instant messaging application than SMS text messaging app. However, do of these apps can use phone number for matching. These apps include Kik Messenger (registration is required and available for iPhone, iPad and Android), PingChat! (requires sign up and supports iOS, Android and Blackberry), TextMe (uses nickname and available for iOS and Windows Phone 7), GeeVee (available for Android, iOS and Blackberry), LiveProfile (registration required and supports Android, iPhone, and BlackBerry) Beluga (requires Facebook access and available for iOS and Android), and TigerText (registration with email or phone number required, available for Windows, iOS, Android and Blackberry).
If you're into voice messaging, i.e. sending and receiving a voice messages instead of text messages, HeyTell (matching contact via email or phone number is available for Android and iOS) and TalkBox (registration is required and available for Android and iOS) are some of the choices available.