Posted:
November 27, 2008
/
Under:
Operating Systems
/
By:
My Digital Life Editorial Team
VOATK Tools is a useful tools that manages all aspects related to Windows Vista Product Activation (WPA) and more. Among the most important feature of VOATK Tools is ability to remove any cracks from Windows Vista installation, such as Boot Loader, ClonySoft, Time Stopper, Softmod, Vista Loader, VistaBoot, TimeStop, TimerLock, BIOS Crawler, Paradox, and whatever else imitated cracks or activators that you can think of and used.

VOATK 2.5 stand alone tool is almost exactly the same with original VOATK 2.2 that featured on My Digital Life, except that it now includes link to now-defunct developer's site at neros-club.com.
VOATK Tools is ideal for user who is having problems with existing crack installed, which is not working to activate Windows Vista, or who plans to use a new crack or patch, where in both cases, it's advisable to remove any existing or previous cracks.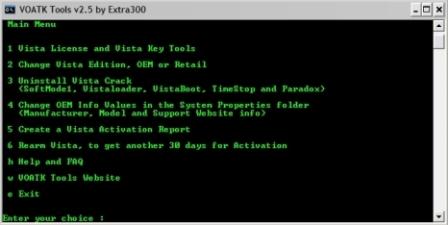 Features of VOATK Vista License and Vista Key Tools 2.5
Display Vista license information.
Display Windows Vista product key.
Display expiration date for current license.
Clear product key from the registry (prevents disclosure attacks).
Reinstall system license file.
Check a Vista key.
Uninstall Vista key.
Change Vista edition between OEM or Retail (for Vista crack recovery) and between Starter, Home Basic, Home Premium, Business, Enterprise, Ultimate edition by repairing the tokens.dat file.
Uninstall Vista Crack (remove old Vista cracks) supports SoftMode1, SoftMode2, VistaLoader, VistaBoot, Paradox, TimeStop32 and TimeStop64 plus Frankenbuild.
Change or remove OEM Info values in the System Properties folder (vista touch up) for following values: Manufacturer, Model, Support Website, Support Hours, Support Phone Number.
Vista Activation Report for detailed information about Vista Activation Status, Vista Product Key, Vista Build Number, Vista Product ID, Vista License Status, Vista Platform, Vista Description, Installed Vista Edition and Installed Vista Activators.
Rearm Vista for another 30 days time for activating Vista.
Useful for disaster recovery when unable to boot up or start Vista due to damaged MBR and Bootmgr caused by crack or activator, or stuck in Reduced Functionality Mode.
Ready to use – standalone application.
No installation on your hard disk.
Runs from an USB stick.
Runs from the Vista Recovery Console.
Runs from the Reduced Functionality Mode.
Download VOATK Tools v2.5: VOATKToolsv.2.5_Stand_Alone.rar (alternate download link)
If any case, VOATK Tools v2.2 should be enough for most need. For users who want to try new version, extract and run the VOATKToolsv.2.5 Stand Alone.exe program to start the VOATK Tools.
VOATK Tools works on both 32-bit (x86) and 64-bit (x64) versions of any editions of Windows Vista. Do run VOATK Tools with elevated administrative privilege for it to work properly.